No one likes abandoned carts. According to statistics about 7 out of 10 shopping carts are abandoned sometime during the checkout process. And the best way to prevent it – and to create a better online experience for your customers – is to optimize the checkout process. So let's start by going over the factors that will encourage your customers not only to continue with their transaction, but even add other products to their carts as well.
Match the checkout with your site's look and feel
While designing their website shop owners sometimes overlook that the design of the checkout should reflect the general look and feel of their online shops. When website visitors come to the checkout they are sometimes unpleasantly surprised by discovering a completely different design. So during ecommerce website development it is advisable to pay attention and make sure that everything looks consistent and harmonious.
Don't require unnecessary information
Ask your customers to only provide the information you really need to fulfill the order, so they will spend less time at the checkout. The customers also appreciate it when the forms they have to fill in are provided with support text and example entries.
Provide a progress indicator
There are different checkouts. Some have only one step, some have three, and sometimes their number goes up to six. It is typical for many checkouts that there are no indicators on how many steps the visitors have to make to complete the whole process. And it is completely understandable, that customers want to know how much time they have to invest until their transaction will went through. One step checkout is a great option as well. On one page they will see all fields that should be filled in. Discuss with your ecommerce website development company staff, if it is reasonable to have one step checkout in your online store.
Suggest three modes to your visitors: guest, register, and logged in
People like to have a choice. 14% of users leave online shops because of the a bsence of a guest checkout. There are only two fields to fill in and a couple of buttons to click and the visitor is registered. But as you can see from the statistics, after a satisfying shopping the users don't want to waste any more time filling out this form. So it is better to have more options to choose from.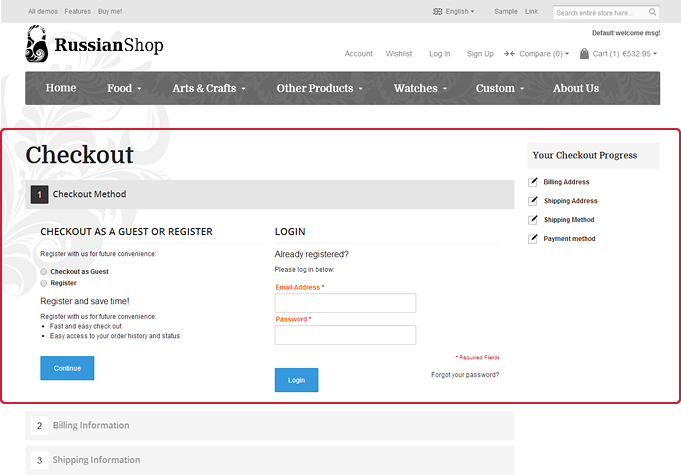 Remind them about security
Security is a big concern for many. Simply reassure your visitors that they can rely on you and trust you to handle their sensitive information responsibly. If you use any specific security technologies, inform your customers about that.
Provide the checkout page with extra features
While designing and developing your checkout, you have to take into consideration which other useful features you can offer your clients. Below is only a short list of them:
gift options and gift card support

subscription to newsletter

comments

discounts

terms and conditions check box

gift wrap

points and rewards

cross-sells
  Send them an email to confirm their purchase
It is a good practice to send out confirmation emails immediately after the customers have bought your services or products. Make sure that it includes the date of delivery and the order details.