Marketing and UX. Both play very important roles in making online businesses successful. There is a lot in common between them. Nevertheless, the purposes of marketing and UX and the ways, they use to achieve these purposes, differ from each other. So lets consider the two in details.
What is MARKETING about?
Marketing is based on understanding of CUSTOMERS needs and their satisfaction. The goal of marketing is not only to sell products and services to customers, but get people to see, that it is the right choice, to develop a demand for these products and services and to help them at every stage of their decision-making process. Marketing covers such areas as research, planning, pricing, packaging, promotion, social media and content strategy etc.
Metrics:
activity-based metrics (tracking downloads, website or events visitors and so on)

operations performance metrics (conversion rates, the cost per sale, program-to-people ratios, awareness-to-demand ratios)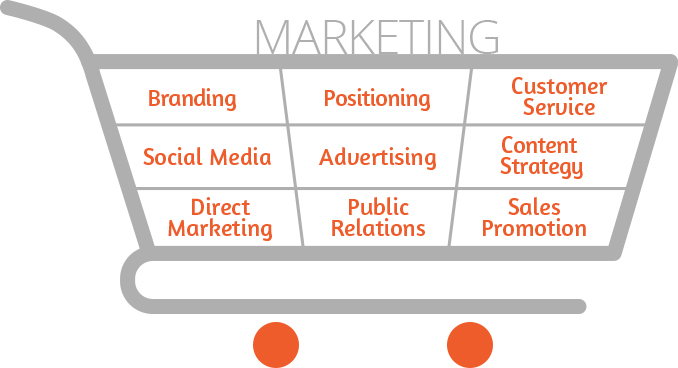 What is USER EXPERIENCE about?
User experience is about understanding human behavior and knowing who your market is, and improving the experience of those in your market. Unlike marketing, in the center of UX is the USER, and how he or she relates to proprietary technology. User experience includes the on-page experience of your website, advertising, social channels, analytics etc.
Metrics:
PULSE ( Page views, Uptime, Latency, Seven-day active users and Earnings) for measuring business or technical aspects
HEART (Happiness, Engagement, Adoption, Retention, and Task success) for measuring user experience quality
SUS (System Usability Scale)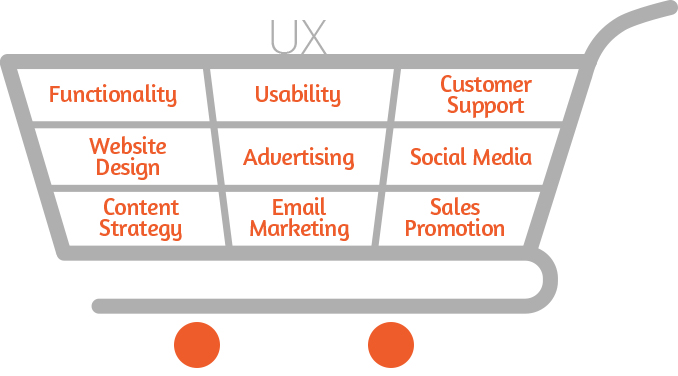 What do MARKETING and UX have in common?
Collecting Data and Observing
They both adore collecting data and observing. It helps to understand whom businesses are targeting, and what their needs are. They help marketing and UX experts to be up-to-date with new trends – these are key elements for improvement of customers experiences.
Fine-tuning
The next step after collecting data is to analyze it, draw conclusions and develop strategy, how to improve and optimize businesses in general with its diverse elements, and marketing and user experience strategy in particular. When it comes to ecommerce website development, the both marketing and user experience should be considered. For example, Magento shopping cart was build with marketing and UX in mind. But still there are areas where it can be improved. If you need help with developing more effective ecommerce solution you can contact professional ecommerce development company.
Testing
What elements are more effective? What content helps to convert more? What web design attracts more visitors? Which elements of navigation are comfortable for visitors? Testing helps to answer all this questions and identify better UX and marketing practices for online businesses.
Growth
Increased conversions, great sales, less shopping cart abandonment. All these indicators speak for growth and step by step turn a small business into a big one.
Loyalty
It is a very important task for marketers and UX experts to build customers loyalty, they spend hours and hours, and huge budgets on its building.
Good marketing can contribute to business success. Good user experience too. But standing together they are able to help businesses to grow and be ahead of rivals.