Although Magento is our primary software, sometimes there are cases when it is not a good match. For example, if you want to create a corporate site or to run a standalone blog. That is why we offer WordPress development on top of Magento ecommerce solutions.
What is WordPress? Pros and Cons
WordPress is one of the most known open-source CMS whose history dates back to 2003. Approximately 24% of websites in the Internet are WordPress-based. Primarily WordPress was positioned as a solution for creating blogs but with flow of time it became a multi-purpose CMS which with the help of various plugins and solutions can be turned into almost web-anything: from simple portfolios to pretty robust ecommerce solutions. Before we'll dive deeper into website types that can be created on WordPress, let's take a closer look at some advantages and disadvantages of the solution.
Pros
No heavy lifting. To start with, WordPress is a very light easy-to-use tool. Compared to Magento, the learning curve for WordPress is not that steep: it doesn't require a lot of time to learn how to use website and manage its content.
Cost-effective and easy to extend. Currently, there are around 2300 ready to use design themes you can go for to cut the costs. Additionally, around 48 000 plugins are there too, so that you can adjust the site to your liking without a lot of development involved.
Stable API architecture. It means that it will be easier to integrate a WordPress site with 3rd party systems.
Cons
Vulnerability. There are some bottlenecks of the system that make it a regular target for hackers. WordPress developers constantly work on improving it, so it's important to apply new updates and take precautions to secure your site.
Since WordPress needs constant updates and some updates can break plugins, you will need to find the way to weigh up the options without harming the big picture.
Extra costs for uniqueness. Adding personal touch to the website might cost you. If the initial website was built using a standard theme but you want to change it, get ready to spend some money on a designer and a programmer to alter the layout of the website pages or create a brand new theme.
Site types we build on WordPress
Blog
As mentioned earlier, WordPress is a good platform to craft your own blog. With some additional modules installed (e.g. advanced editing, SEO, social media etc.), it may become even more effective blogging tool to reach out to your audience. A good example of a WordPress blog could be La Tartine Gourmande site.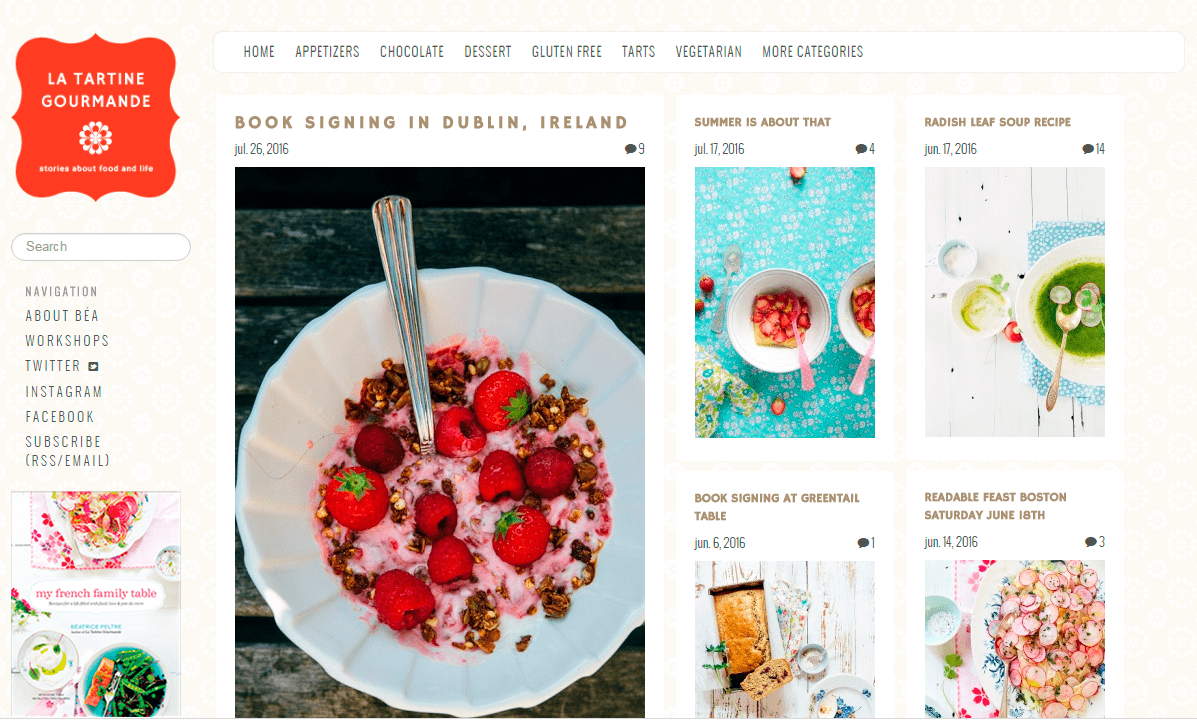 Corporate sites
WordPress can be a home for your business website as well. You can use a ready-made design theme or create your custom design as we did for CardPMT. Whichever option you select, WordPress offers all the tools to present your business, its products or services in a good light.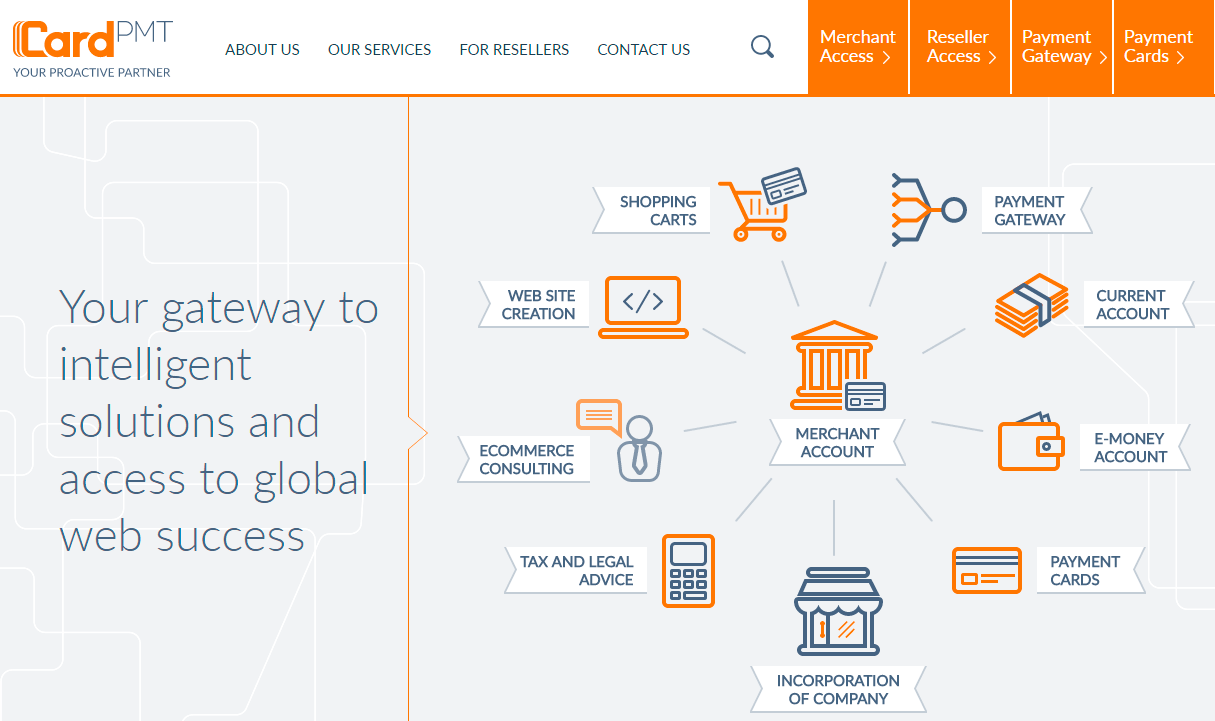 Membership sites
If you want to create a membership website, WordPress is very handy. As a rule, we use S2Member plug-in for this purpose. Like we did it when we implemented East West Math. But there is a great variety of plugins with different features and addons to select from. Some of them are good for selling subscriptions on a single level while others offer more diverse membership levels and subscription management features.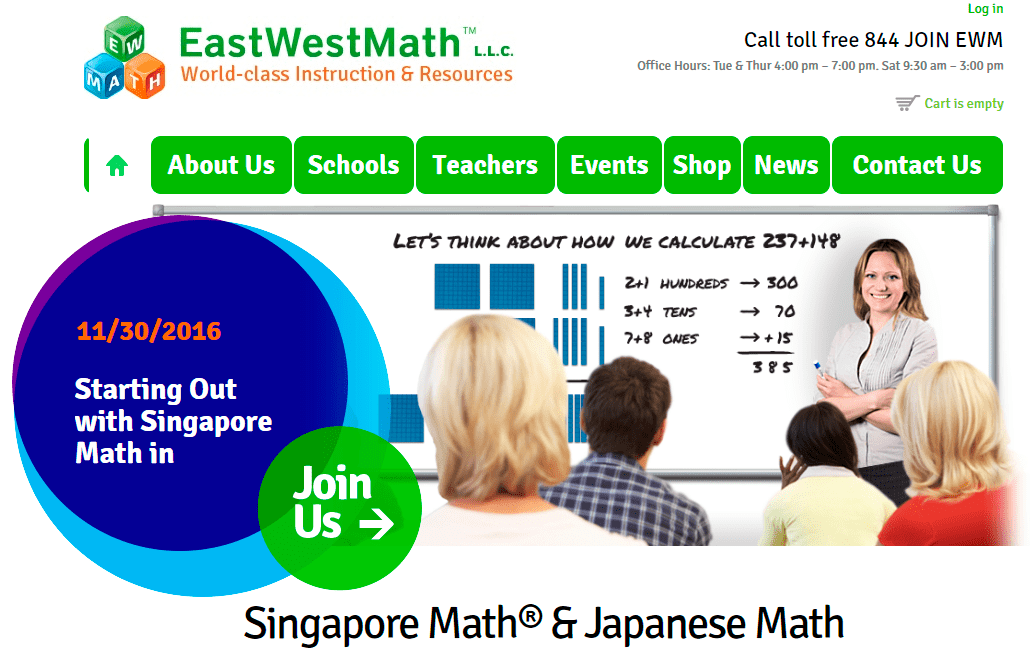 Forums
If you decided to create a WP based forum, possible options are not limited by bbPress or BuddyPress. In this case, there is an array of themes and useful plug-ins that turn a regular website into a platform for discussions that will let your visitors create and manage accounts, monitor activities of each other, and send messages etc. But make sure to conduct a proper research on forum plug-ins first: a lot of them contain bugs that can significantly influence the performance of your site.
Small ecommerce sites
WordPress with WooCommerce or any other ecommerce plug-in can work fine for small ecommerce stores. Of course, it lacks the robustness that such platforms as Magento offer and often has its downsides (e.g. like product creation in WooCommerce that is pretty time-consuming), it's still a good option for small businesses that do not necessarily want to spend money on maintaining such resource-heavy solutions as Magento. A good example of ecommerce website created using WordPress CMS is Neopolitan.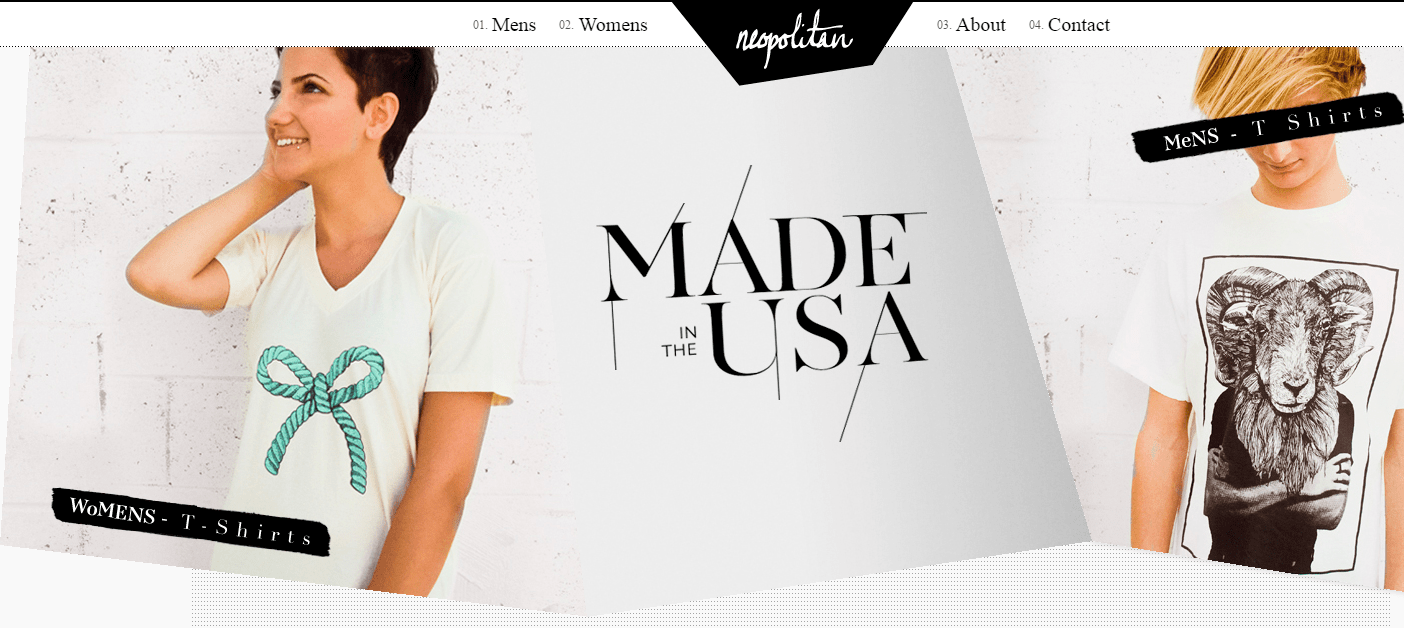 Job boards
A one-stop hub for job seekers is another website that can be created on WordPress. For example, you could use efficient and stable WPJobBoard plug-in. If you are an admin, you can manage want ads by adding new ones, edit existing job profiles, and delete no longer valid vacancies etc. Ability to drag and drop text blocks and rearrange the website content easily is another great feature of WP job board. Employers can look for suitable candidates filtering the resumes by specific keyword, geolocation, certain job experience, or education details. The options for creating job board on WordPress is not limited only by WPJobBoard though.
Social media sites
Want to create a social media site? WP Symposium and several more plugins can bring to your fingertips a number of great features to engage with users: profiles and groups creation and management, private messages exchange, notification settings, social media feeds, sharing button, scheduling, comments, content lockers etc. With the help of WordPress add-ons and development team, you can kickstart communication and streamline engagement with viewers who drop by your website.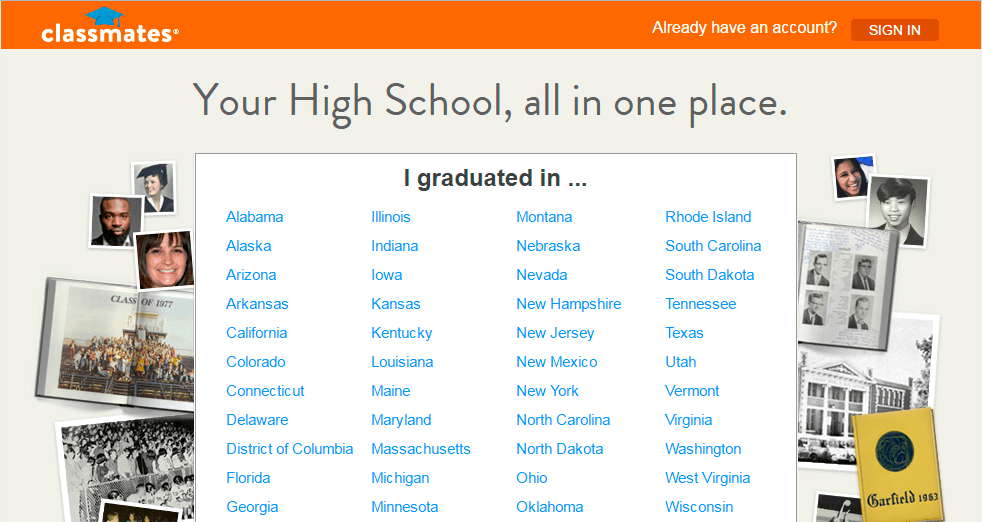 Magento vs WordPress with WooCommerce
Maybe it would be unfair to compare these two platforms because they are like two boxers in different weight classes. But still it's important to understand capabilities of both the systems to make the right choice to suit your particular business need.
WooCommerce is just a free ecommerce extension for WordPress, not an extensive ecommerce solution. A basic version of WooCommerce plug-in comes with a limited number of free features: products and orders management, several payment and shipping methods, taxes and transactional emails as well as coupons as a single marketing option. Aaaand, that's it.

Of course, the core functionality can be extended by a number of add-ons (there are about 400 of them available for WooCommerce), but in many cases, it really makes sense to use more complex ecommerce solution such as Magento that does not require installation of dozens of extra add-ons but offers those features out-of-the box. However, Woocommerce can be more appealing to an ecommerce novice, since it is generally considered as simpler or easier to configure and maintain.
Try it yourself:
Magento indeed is a comprehensive ecommerce platform that comes in 2 versions:
Magento Community Edition: free to download ecommerce platform;
Magento Enterprise Edition: a premium paid version of the software that has extended functionality and is hosted and supported by Magento.
Designed specifically for eCommerce rather than an eCommerce framework that fits onto a WordPress site, it is a huge benefit for midsize and large online retailers. The platform comes with a variety of options starting from customers management and various marketing features to multi-store functionality and varied localization options – everything out of the box. Here you can review features of both editions in detail: Magento features overview. Furthermore, there are about 10 000 extensions in case you need to add some specific features.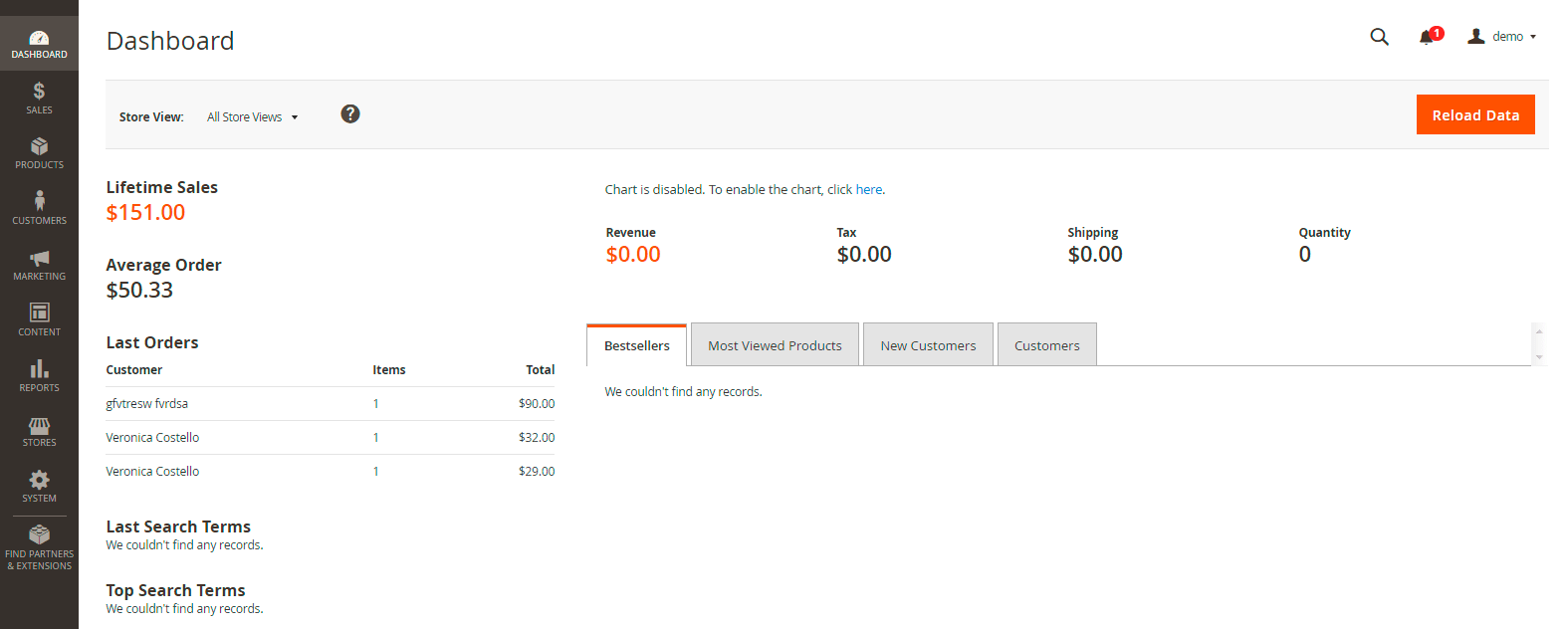 Magento 2 admin interface
Keep in mind that Magento is not only more complex system, but also requires a lot of server resources so you will need to invest more into good hosting.
At the end of the day, which system to opt for depends on your business goals, time you have, budget, and expertise at hand. If you still not sure which system is better for you or you have questions regarding one of the above-mentioned website types, just drop us a line.