Ecommerce is an extremely competitive market, and in such environment it's vital to be in touch with the latest industry news and technologies.
This gap is filled with ecommerce conferences which bring together merchants, retailers, developers, marketers, designers, and other professionals who work within the industry.
Just a few benefits as to why it's worth attending a conference:
Trends. Staying in touch with modern trends and tendencies is a must-have item for those who want to sell online. Fashion rules the market and makes people buy particular brands. Also, new technologies make people's life more convenient, and implementing them is about keeping customers loyal. For instance, more and more users use voice search to find something on the internet. That means that online merchants should add such features to their store's functionality if they want to move with the times. Why do you think we mention the voice search? Because we learned about it at one of the conferences 🙂
Like-minded people. Conferences provide you with the opportunity to meet people who feel the same way you do about the topics that matter most to you. You can discuss common pain points and share the experience with them. Successful cases allow you to choose the right direction to grow your business while the less successful ventures of others' help you to avoid bad decisions.
Development partners. Visiting conferences gives you the opportunity to find an ecommerce development partner like us to fulfil your project. Even if you already have an online business you may need to implement some new features and add-ons. You can attend a conference to choose among different companies which provide a similar service.
As you see, such events give participants ideas and new opportunities. Below you'll find a list of the biggest and best conferences that will take place in 2019 that you should consider attending for inspiration.
Magento conferences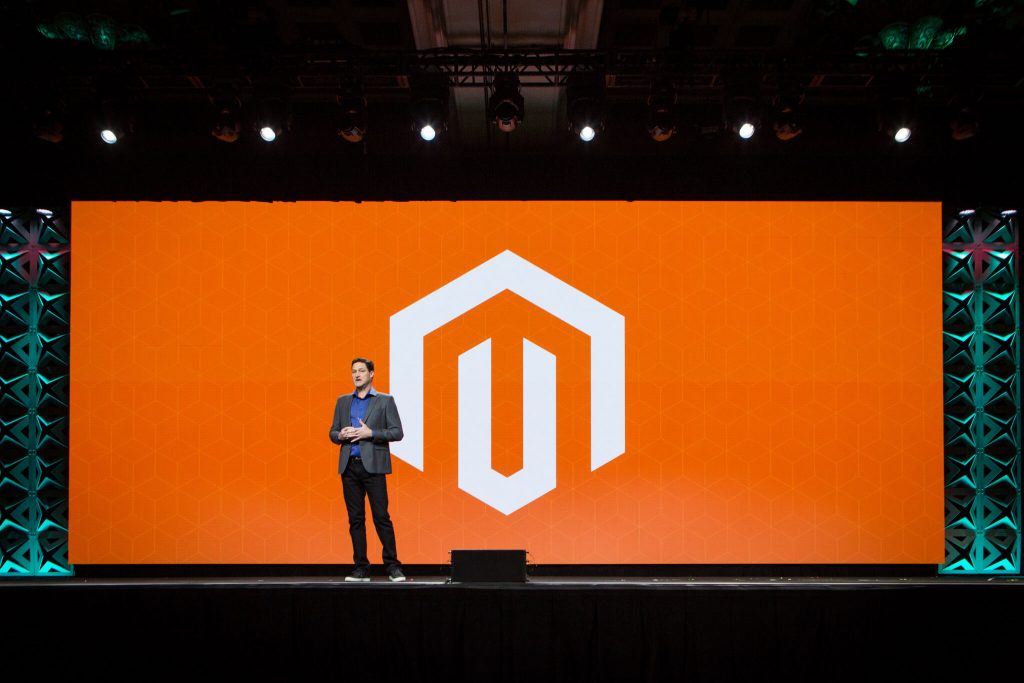 Magento is the leading ecommerce platform, which has a wide ecosystem of merchants, engineers, marketers, and retailers. The platform is supported by 1150 companies around the world and by 300,000 developers, 7,500 of which are Magento certified. And we are one of them.
Magento events are made for networking, sharing experiences, finding partners, and being in touch with the latest news and trends. They are helpful for small, medium, and large merchants who run their business' on Magento's platform. If you can't choose among several ecommerce platforms, visit the event at least once and learn everything you need to know about Magento from those who already have experience with it.
Imagine
When: May 13-May 15, 2019
Where: Las Vegas, Nevada
Website: https://imagine.magento.com
Imagine is the largest Magento conference that brings together 3,000 attendees every year. It unites merchants and agencies from at least 60 different countries with 150 speakers and more than 100 sessions.
Meet Magento Italy
When: 2-3 April 2019
Where: Milan, Italy
Website: https://it.meet-magento.com/en/
Meet Magento Italy emphasizes innovation, training, business, and networking. The conference takes place over two days, which is just long enough to dive into hot Magento world topics being discussed at the moment.
Meet Magento Netherlands
When: 18 April 2019
Where: The Hague, Netherlands
Website: https://www.meet-magento.nl/
In 2019 Meet Magento Netherlands will host 25 speakers from around the world. The conference will host 40 hours of lectures and workshops, and at least 500 participants are expected to take part.
Meet Magento DE
When: 3-4 June 2019
Where: Leipzig, Germany
Website: https://de.meet-magento.com/
Meet Magento DE takes place in Leipzig and is focused on Germany, Austria, and Switzerland. It's also a great event to attend for those looking to evolve their business in mentioned countries.
Meet Magento UK
When: 19 June 2019
Where: London, UK
Website: https://uk.meet-magento.com
Meet Magento UK is the biggest Magento conference in the country. Last year there were 16 sessions, 33 speakers and 500 attendees.
Meet Magento NYC
When: September 2019
Where: New York, US
Website: https://meetmagento.nyc
The largest Meet Magento conference in the US is mainly aimed at merchants. There are presentations that concern ecommerce trends, hosting and delivery innovations, and more. However developers and Magento partners also attend the conference, so it's a great opportunity to network with them.
Shopify conferences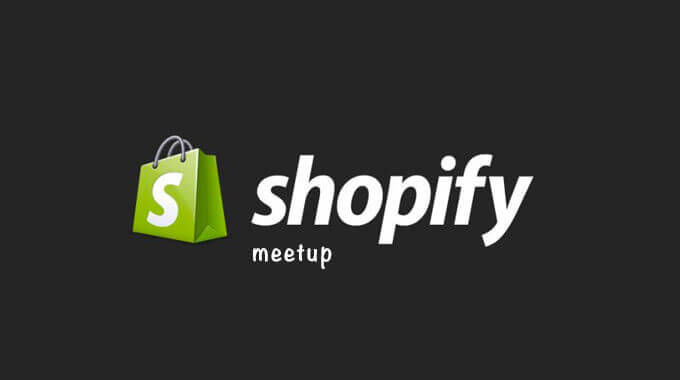 Shopify is a growing online store builder with more than 600,000 active merchants using it on a daily basis. Maybe you've heard of brands such as Budweiser, the New York Times, Tesla Motors, Red Bull, and Nestle. All of their stores are operated via Shopify, so it's a great option for large businesses, as well as having the flexibility for small to medium sized businesses to thrive.
Shopify has a smaller community than Magento so not so many events are specifically focused on it around the world. Here is the list of Shopify conferences you might want to drop by.
Shopify Unite
When: June 18‑20
Where: Toronto, Canada
Website: https://unite.shopify.com/
Shopify Unite is the biggest event dedicated to the platform. Every year merchants, developers, and partners come together to network, share experiences, and listen to reports. Both the CEO of Shopify Tobias Lütke, and Prime Minister of Canada Justin Trudeau talked about the future of commerce at the conference last year. If you need to get a visa to travel to Canada, Shopify can provide you with the invitation.
Shopify Meetups
When: All year round
Where: Globally
Website: https://ti.to/shopify-meetups/
Small meetups focused on Shopify take place around the world regularly and using the link above you can find the event closest to you. For example, Montreal Shopify Meetup is on February, 6th. Attendees will learn common mistakes in ecommerce, receive feedback on their stores from a designer, and have the chance to increase their network. And did we mention attending the event is free? 🙂
Ecommerce and marketing conferences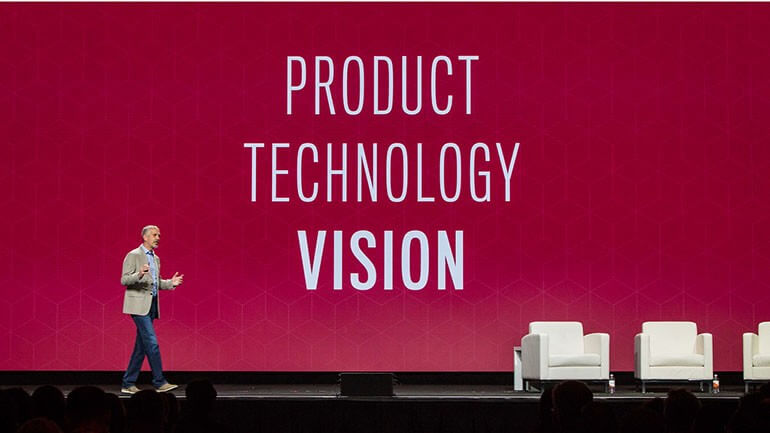 Aside from conferences focused on a particular platform there are ones that cover a wide range of ecommerce topics. Such events usually invite famous speakers from leading companies who talk about selling online, improving user experience, and boosting revenue. Here is the list of highly anticipated ecommerce conferences in 2019.
B2B Online
When: April 29-May 01, 2019
Where: Chicago, Illinois
Website: https://b2bmarketing.wbresearch.com/
B2B Online is an ecommerce conference made for manufacturers and distributors. This time the conference will be full of famous speakers. Mary Derrick from Schneider Electric will talk about measuring customer interactions, Sushma Shirish from HP will explain how to improve customer experience using data, and Garry Wicka from LG will discuss data management and analytics.
Traffic & Conversion Summit
When: 25-27 February, 2019
Where: San Diego, California
Website: https://www.trafficandconversionsummit.com
Traffic & Conversion Summit is a large digital marketing event which was founded 10 years ago. It is attended by nearly 6 thousand marketers and entrepreneurs hosting around 80 speakers every year. This time Brett Curry from OMG Commerce will talk about Google Ads superpowers, Dave Gerhardt from Drift will share 7 conversional marketing secrets, and Billy Gene Shaw will give you the million dollar video ad formula.
eTail Connect
When: September 16-18, 2019
Where: San Diego, CA
Website: https://etailconnectwest.wbresearch.com/
eTail Connect is an amazing event for networking among merchants. Participants will learn about omni-channel experience, digital marketing tools, analytics, and data. Attendance is limited to 65 attendees though so to receive an invitation you need to submit a special form on the website.
ShopTalk
When: March 3-6, 2019
Where: Las Vegas, US
Website: https://shoptalk.com
ShopTalk is a large conference made for retailers. There will be 8,000 participants and 300 speakers. Activities include lectures, roundtables, one-to-one meetings, and dinners.. This year a lot of famous speakers from top shelf companies are featured: David Isbitski from Amazon, Ben Hassing from Walmart, Mark Rabkin from Facebook.
The Social Shake-up
When: May 6-8, 2019
Where: Atlanta
Website: https://www.socialshakeupshow.com/
Organizers of the Social Shake-up really focus their time on sorting out high-profile speakers for their audience. Every speaker in the event shares an unusual example of social-media success. Matthew Saleski from LinkedIn, Tom Chirico from Twitter, and Sarah Greenberg Sachs from Coca-Cola are announced to speak in 2019.
Internet World Expo
When: March 12-13, 2019
Where: Munich, Germany
Website: https://www.internetworld-expo.de/en/
Internet World Expo is an exhibition which allows companies to present their new products, technologies, and solutions. As well as exhibitions, visitors can also attend lectures to get more insights. For 2019, nearly 18,000 participants, 450 exhibitors, and 250 speakers are expected to take part. Some of the top speakers have already been featured such as Dorothee Bär, State Minister of Digitisation, Max Amordeluso from Amazon Alexa, Kai Schmidhuber from L'ORÉAL, and many others.
Internet Retailing Expo
When: 3-4 April 2019
Where: Birmingham, UK
Website: https://internetretailingexpo.com
Internet Retailing Expo is the biggest conference in the UK focused on the latest multichannel strategies. The event lasts two days and includes 100 hours of sessions, exhibitions, and workshops. Every year the conference brings together over 5,000 retailers and 300 exhibitors. In 2019 speakers will discuss international growth, leveraging marketplaces, and how to turn data into cash.
UK eCommerce Awards
When: 6 March 2019
Where: London, UK
Website: https://www.ukecommerceawards.co.uk/
UK eCommerce Awards is an event where exceptional websites, tools, marketing campaigns and agencies are rewarded. This is a chance to meet the best of the best and to get acquainted with the most successful projects of the year. Sophisticated judges evaluate each case under the following criteria: creativity, implementation, spent budget, results, and more. If you've already launched a successful social media campaign or have an outstanding website, you can submit the entry form and take part in the awards in 2020.
Adobe Summit
When: March 24-28, 2019
Where: Las Vegas, US
Website: https://summit.adobe.com/na/
Adobe Summit is one of the largest conferences in North America that lasts 5 days. It consists of 60-minute sessions and 90-minute trainings where you will be able to practice in front of the computer in one of the following fields: advertising, data management, omnichannel marketing, personalization, machine-learning, and more. Featured top speakers who will participate in the event are Satya Nadella, CEO of Microsoft, John Grotzinger, Chief Scientist of NASA, and Shantanu Narayen, CEO of Adobe.
So, it's high time to plan you business trips! Attending ecommerce conferences will help you to stay in the loop and grow your business in the right direction. If you just plan to create an online store and are hesitant on what platform to choose, be sure to contact us. We will be glad to give you all comprehensive information you need to make the right decision.