More and more businesses are joining the market. And staying ahead of your competitors is becoming a more complex task than it used to be.
To stay afloat and even outperform the competition, you have to always be up-to-date with new strategies, tactics, and technology.
To help you out a little bit, we've compiled a list of the trends that 2019 brings us. Some of them have been permanent members of the list for several years, while others are some new faces.
Contents:
Trend #0: embrace the right technology
It's almost "Thank you, Captain Obvious!" advice. But in recent years we've seen some of the biggest names in what we thought was the stable retail economy fall, close their doors, or file for bankruptcy – think Sears, Aeropostale, and Toys R Us, to name a few.
Countless others have followed suit in similarly devastating ways and almost all of them have one theme in common: underestimating the importance of technology and eCommerce.
Technology is something that continues to play a huge role in the lives of nearly every single consumer choice, directly or indirectly, and the ones who embrace it will surely be the most successful of 2019.
The benefit of technology for consumers comes in two stages: the ability to personalize their shopping experience with brands they identify with, and the convenience of being able to research, evaluate, compare, and purchase from just about anywhere, at any time.
The benefits of technology for your business operations – increased effectiveness and smoother processes through software and web services resulting in happier employees and customers.
What to do:
If you already have an established online presence, make an audit to determine whether or not you're making full use of the technology you are currently running. Find the answers to the following questions:
Do you use all the digital channels and software you could benefit from?
Is your ecommerce platform up-to-date?
Does it offer your customers the service level they deserve?
Is the software easy to maintain and administrate?
Are there extra features or 3rd party services you have to add to make your customers' experiences better?
Maybe, it is the highest time to use new software or to migrate to a new platform? (link to migration services section)
Even if you're only considering an ecommerce website and/or to introduce software like ERP, CRM, and POS systems to improve your operations, do it. The only thing you have to keep in mind – make your research thorough and think about what your business really needs versus what is just a passing trend that can be left out.
For example, you probably won't need augmented reality (A.R.) and radio-frequency identification (RFID) technology the way top beauty chain Sephora introduced it. The budgets they have to spend on innovation are tremendous.
The investment paid off because not only did they receive the nomination for most innovative, but they also increased overall revenues with the introduction of the company's AR "3D live experience" app.
But are you ready to make this kind of investment? It's up to you and your business analytics to decide.
[Ecommerce trend #1] Multi-channel ecommerce
Making yourself available across all the channels your customers use is a good strategy to succeed. Take the advantage of having an ecommerce website with local storefronts, brick-and-mortar stores, popular marketplaces, and social media that support direct sells.
You're probably already doing this.
The only thing you have to pay attention to – the more channels you add, the more difficult it becomes to manage them and synchronize the activities.
It's possible that at some point it becomes a bit too overwhelming, and you'll need to synchronize your inventory with all the introduced channels. It's where integrations come into play.
Advanced ecommerce platforms like Magento 2 already have implemented solutions enabling merchants to integrate various channels. For example, in Magento 2 there is Multi-Source Inventory (MSI) that enables businesses to connect multiple inventory sources to your Magento store.
What to do:
Conduct a bit of market research and learn from your customers, which shopping platforms do they prefer to purchase from, and add in the ones you are missing. Also think through the strategies of how to optimize the shopping experience across all of those channels to ensure brand consistency.
[eCommerce trend #2] The evolution of analytics
Along with newly developing channels for eCommerce come even more ways to analyze and measure that data through both new and existing platforms. 2019 has the potential to boost analytic platforms into areas like product development, pricing, returns, and more.
What to do:
The amount of data that's out there is endless, if you're still only relying on Google Analytics for all your insights, it might be time to cast a wider net and see where your sales funnels may be able to expand.
Such services as Kissmetrics and Adobe Analytics may be a good option to learn what performs best for you.
[eCommerce trend #3] Consumers driving retail innovation
When you listen to the needs of your customers and know what they think of your brand, the ability to innovate becomes much more focused. 2019 should see brands becoming even closer to their consumers and tuning into their needs.
Related to product content is reviews, as this is actually consumer and customer owned content. These options and reviews are not meant to be brand-sponsored content and aren't supposed to sound the same as your own voice. These reflections are peer based opinions that will help drive branded messaging, good or bad, so paying close attention to this feedback is crucial.
What to do:
Take the time to understand your customer's voices. Be open to the feedback you receive, offer up surveys to increase interactions, and implement these ideas as best you can and where you see fit.
[eCommerce trend #4] Chabots will become a more permanent fixture for customer experience
There's no ignoring them, they're changing the customer experience mostly for the better, and that will only continue in 2019.
They're a quick-release mechanism for a lot of the average customer friction that occurs, which is why 48% of consumers would rather connect with a company via live chat than any other means, according to Hubspot.
Moreover, according to Ubisend, an additional 35% of consumers are looking forward to seeing an increase in the use of chatbots for consumer experiences.
What to do:
Look around and ask questions. Find a chatbot builder or an agency to help you make a bespoke service to drive engagement, sales, and better the customer experience.
Some already well known companies have been testing chatbots to see how they best fit in their organization – Pizza Hut, Whole Foods, Sephora, Spotify, Mastercard.
Facebook-based shops already use chat based bots to help answer FAQ's or even facilitate transactions. They're so easy to set up that we're almost guaranteed to see an increase in their overall use from smaller shops.
However, do keep in mind their sometimes limited applications and abilities to answer more complex situations and questions, but just like everything else, this is expected to change over time.
Have a look at Facebook chatbot best practices, you may find here some inspirations too.
[eCommerce trend #5] Smoothing out the sales funnel with machine learning and AI-assisted eCommerce
AI-powered platforms are getting smarter by the minute, and soon enough they'll be providing more targeted, personalized experiences and marketing campaigns which will help drive sales online. As a whole, this will probably lead to a smoother buying process as these features see more popularity in 2019.
What to do:
AI-based eCommerce may be small now but don't underestimate the power of knowledge. We would recommend taking the time to research some marketing tools that already use these technologies. For example, Marketo that was recently acquired by Adobe is offering AI-based solutions.
[eCommerce trend #6] More phones – more funds
Mobile payment options are expected to increase at a drastic rate. Stats suggest that the global mobile payment revenue from 2015 to 2019 will skyrocket from $450 billion to over $1 trillion.
What to do:
As payment companies standardize these approaches to payments making buying simpler, quicker, and more secure, you too can ride the wave of increased revenue by incorporating mobile payment options.
[eCommerce Trend #7] Subscription boxes, services, and products, oh my!
Recent generations have come to love the bundle economy, and with that has arrived the ever-expanding subscription box market and subscription box SaaS companies.
2019 is expected to see an increase in big players like Blue Apron and Dollar Shave Club as traffic to subscription services sites in January rose by 18% according to Hitwise. Though it's a sizable increase, it's not quite a hardy chunk as the 56% gain registered a year earlier.
What To Do:
If subscription based eCommerce makes sense for your brand, start by using add-ons from your existing catalog and implementing a subscription service from these pieces.
Magento's platform has a grouped product option that can be used as a basis for such services. And can serve as a good point to start with. Check if the platform you use for ecommerce has such an option too.
Many businesses also offer configuration options when customers have a chance to customize the set. Just one more idea to consider.
[eCommerce trend #8] Influencers will have the last word
70% of millennial consumers are influenced by the recommendations of their favorite instagrammers, youtubers, and other media influencers according to a Collective Bias marketing survey.
The same survey revealed that 30% of consumers are more likely to buy a product recommended by a non-celebrity blogger. It's safe to say the influencers aren't the D-list, camera hungry teens they were once labeled as.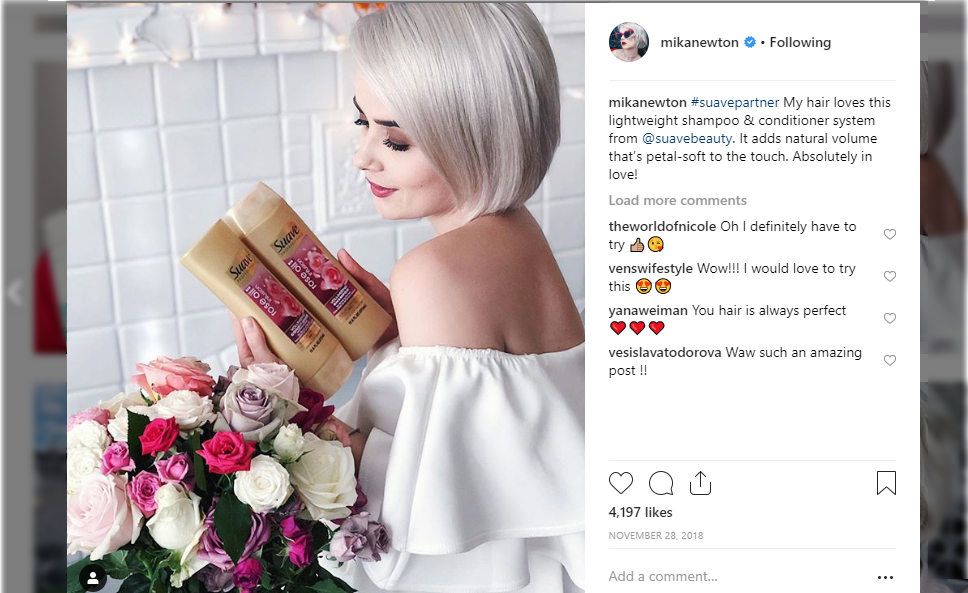 What to do:
If you can find influencers in your niche, you'd be wise to invest steadily, responsibly, yet heavily to help boost your instagram/linkedin/facebook/twitter presence.
[eCommerce trend #9] An increase in the acceptance of digital-first
Data and analytics are a recurring theme sure to drive brand growth, driven by digital-first strategies. Using digital assets to open new markets, focus campaigns more, and find consumer ticks that will drive brick and mortar strategies.
What to do:
Offline marketplaces are going by the wayside and digital channels are giving brands the opportunity to disrupt. If you aren't already digital-first, you may want to have a look at your approach.
[eCommerce trend #10] The world of moving pictures
Never underestimate the power of motion on a blank canvas. Autoplay videos are mega popular on social media platforms like facebook and Instagram for a reason.
What to do:
Use animation creatively, sparingly, yet impactfully to draw attention to the specific details your users will love. Don't go too overboard or you'll distract your customers and they'll forget why they came to you in the first place…like, to buy stuff.
[eCommerce trend #11] Voice search
Voice searches will be 50% of all searches by 2020. 22% of people who currently own devices like Amazon Echo and Google Home have purchased something through voice search.
With the introduction of Web Speech API to Chrome and Firefox new opportunities were opened for ecommerce businesses.
Web Speech API has two main components: Speech Recognition and Voice Synthesis. Both components can be used as an addition to the native ecommerce platform search, e.g. with Magento's default search.
What to do:
Find a provider who can help you with development of voice search.
[eCommerce trend #12] 3D technologies bring sales to life, literally
It's only recently that 3D technologies have advanced enough to boost this segment of the market. Combined with seamless zoom features, 3D technologies have become an integral part in the online shopping experience.
Customers can get a better feel for the shape, texture, and color of products with enhanced visuals, seeing things like shiny silks, glossy leathers, and glitzy items of jewelry.
3D imaging is another option, since, according to Cappasity market research, 95 percent of respondents prefer an interactive 3D representation to video playback.
Conversion rates are also affected by these kinds of features as an increase in customer engagement will help boost metrics that are more tangible, with conversion rates being a prime example.
With 3D product imaging, TSUM, one of the largest luxury goods department stores in Eastern Europe, managed to increase its conversion rate by almost 40% for products in the shoes and bags categories. TSUM is the first company to have digitized over 40,000 products in 3D.
What to do:
Take some time to experience this yourself and see how seamless zoom features or 3D imaging are implemented in your industry. When it makes sense to showcase your products this way, find an artist who can create at least one test product to see how it works for your target audience.
[eCommerce trend #13] Not-so-futuristic shipping options
Self-driving cars, delivery drones, same-day deliveries. These are all things of the future that suddenly aren't so futuristic. 2019 is sure to see an increase in efficient logistics, with Amazon already using drones in England to deliver some products, and traditional shipping methods being used to deliver more and more subscription based deliveries.
Customer experience in delivery services would be improved dramatically with 2-hour shipping and cross-channel purchase options.
This trend is expected to continue into 2019 and will and bring about a smooth logistic operation, combined with detailed management for high sale volume.
What to do:
Think about some of the most recent deliveries you've had and how they compare to what you received a few years ago, maybe even a few months ago. Is it better?
How can you use some of those technologies to improve the experience your customers have too? Those are your starting points..
Thanks for reading! And, let's see what 2019 brings us!
Subscribe
to our newsletter