Valentine's Day Business Ideas For Online Stores
Needless to say, Valentine's Day brings vast opportunities for your ecommerce store regardless of what you sell.
Valentine's Day Shopping Statistics & Trends
Ways to Boost your Sales during Valentine's Day
#1 Create a Special Look for Your Website
Creating a unique design is a great way to get your visitors into Valentine's Day spending mentality. Most stores make a special Valentine's Day section, such as Woops!
Some online stores go as far as creating an entirely new look for their storefront like Boohoo. This reminds their visitors of the coming holidays, encouraging them to purchase now before they forget.
#2 Make Themed Products
Another great technique to boost those Valentine's Day sales involves turning some of your products into themed products. This gives your customers a clear choice of products for Valentine's Day gifts and allows you to build a higher profit margin into that exclusive product.
For example, ModCloth created a great lineup of Valentine's Day clothes, including both gift ideas as well as seasonal clothing to get their customers in Valentine's mood.
Lush created a set of specialty products made for Valentine's Day. These involve unique offerings only available during this time of year, giving them an easy way to build scarcity.
#3 Create a Valentine's Gift Guide
We've all experienced having no idea what to get the people we love for Valentine's Day. So, you can help people unsure of what to get with a useful Valentine's Day gift guide. This allows you to suggest the exact items you want your customers to buy or try, all while providing them with real value. It makes your ecommerce store act more like a brick and mortar store with a personal touch, especially if you choose to add an option for gift-wrapping their purchase at checkout.
To make a gift guide, you can implement filters into your existing site for gifts based on who the receiver is or based on prices.
For example, ASOS created a gift guide by implementing filters based on the gender their customer is purchasing for.
While The White Company created a "Gifts by Price" filter on their site so their customers can figure out how much they want to spend and stick to it.
Another option involves creating an entirely separate page with Valentine's Day gift ideas, such as the one created by The Body Shop.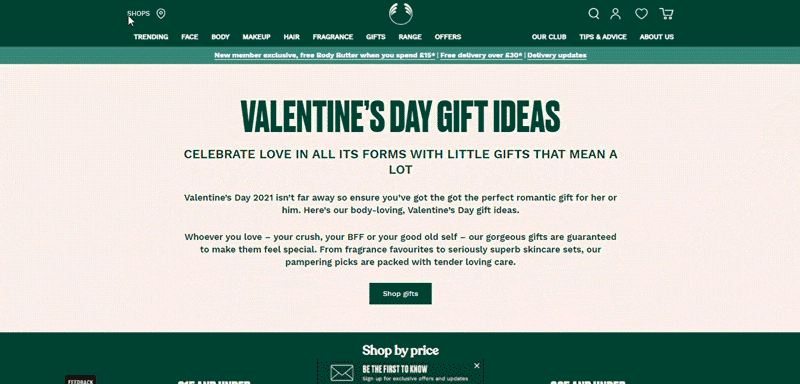 #4 Provide Upselling & Cross-selling Products
With Amazon attributing over 35% of their revenue to upselling and cross-selling, creating a method to upsell and cross-sell to your customers allows you to take full advantage of every sale. One way of upselling involves offering the option to add Valentine's Day cards, gift wrap, or flowers at checkout for every purchase. For example, John Lewis created a simple section at the bottom of their website for these purchases that typically go alongside any of their other products.
You could also create cross-selling by offering gift ideas at checkout for additional people the customer may need to purchase Valentine's Day gifts for. If one of your customers just purchased a gift for their significant other, you can expand this sale by also offering Valentine's Gift ideas for their parents. Implementing this sales technique at checkout will grow your average order size while providing your customers with additional value by saving their time looking for other gifts.
#5 Organize the Valentine's Day Sale
To capitalize on Valentine's Day spending, offer your customers promotions specifically for Valentine's Day. This gives you a clear message for advertising your products leading up to the festivities. You could offer to buy one get one deal if your product aims at providing an experience for a couple. Or, you could offer free shipping with a promotional code like Forever 21 does.
You could also offer free gift wrapping on any Valentine's Day purchases, so your customers do not need to scramble the day before getting all of their gifts wrapped.
#6 Build Pop-up Ads
Typically, pop-up ads all look the same with some type of promotional offer or highlighted product. However, with Valentine's Day, you can get creative with your pop-up ads to leave a lasting impression on your visitors. Bellabeat created a great pop-up ad for their customers to send an email to their significant other through them with a gift idea.
You could build upon this idea by including a special promotion in the email your business sends to your customer's significant other. This provides them with an additional incentive to order exactly what their SO wants at a discounted price.
#7 Launch the Valentine's Email Campaign
A key piece to boost your Valentine's Day sale is in your email campaign. Sending out Valentine's Day emails provides your regular customers an easy way to show their loved ones what they want for Valentine's Day. They can simply forward your email to whoever they want with their gift ideas. This makes crafting the perfect email particularly important this time of year.
To create an engaging email for Valentine's Day, you first need to decide what your offer in the email will contain. Whether you want to highlight discounted products perfect for a Valentine's Day gift, provide special coupon codes, or custom tailor each email based on your customer's previous buying habits is entirely up to you. Forever 21 is an excellent example of a simple, effective email campaign that jumps straight to the point. They show the beauty of their products and their simplistic nature with the design and content of the email.
Magnolia Market created an intricate email that condenses the content while still displaying their products through gif animations.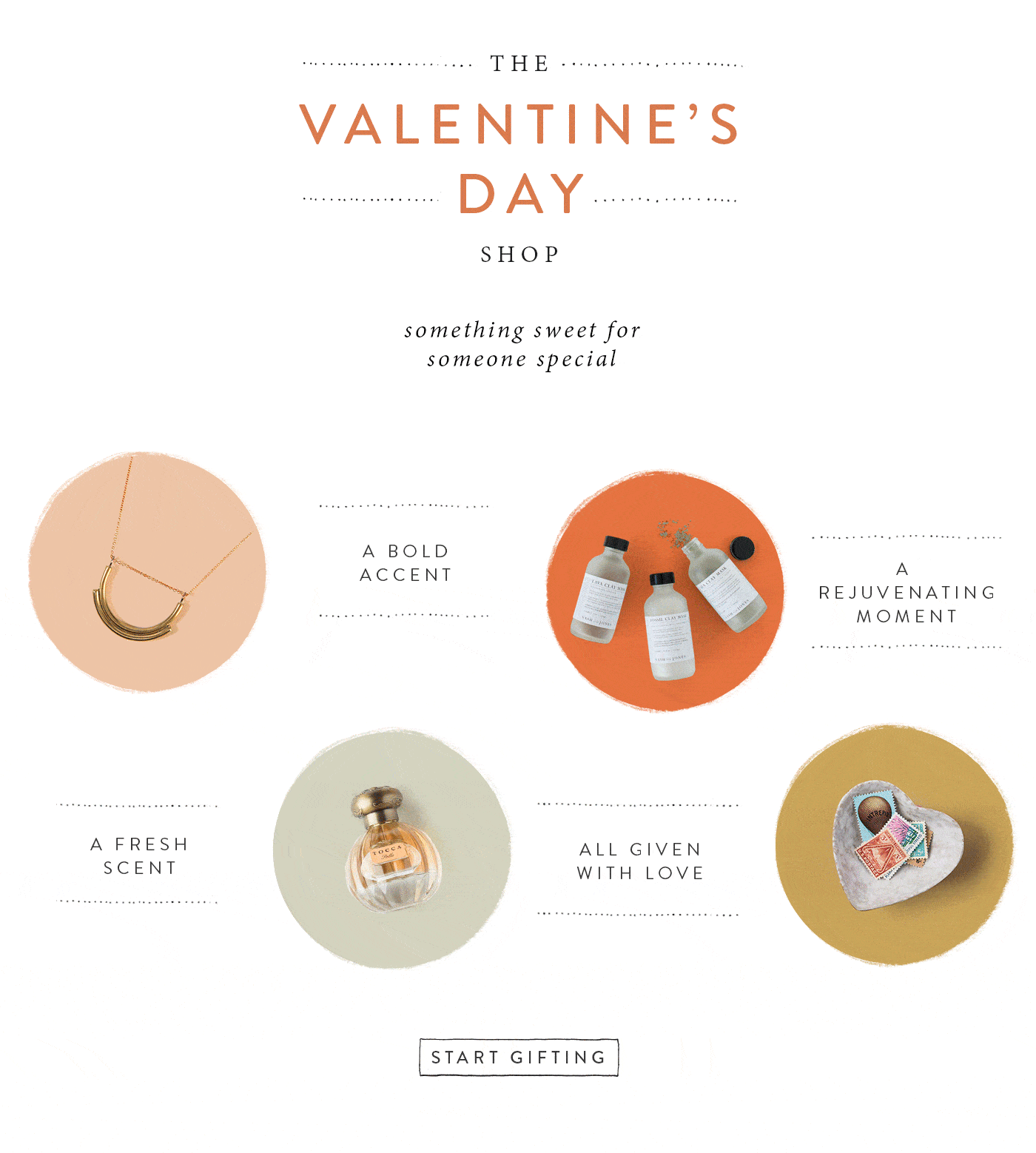 If you're looking for a way to get creative with your Valentine's Day promotions, your email campaign is the time to do it.
#8 Publish Valentine's Day Social Media Posts
Publishing Valentine's Day social media posts gets your followers into the mood and reminds them to get out there purchasing gifts for their loved ones. Magnolia Kitchen does a great job with their social media campaigns, and their Valentine's Day post is no exception. They give their followers great ideas for what they could cook for their Valentine's Day dinner while providing them a simple box to create it.
You can also utilize social media influencers or partner with non-competing businesses to offer special promotions. Influencers are a great way to get your business out there to people who otherwise would not have heard about you. Valentine's Day is a great time to do it. They immediately create trust between your brand and their followers through the trust they've built up with their followers over the years. You can also partner with non-competing businesses to run special promotions between the two of you. For instance, you could each offer your customers a coupon code at checkout for the other store.
Final Words
All of these methods build off each other by driving traffic to your site then capitalizing on that traffic by enhancing your conversion rates and average order size. With the $27.4 billion in spending on Valentine's Day, make sure you get your piece of the pie by using these promotional ideas.
You could also discover other ideas for other holidays to add to your promotional calendar in our article. Make use of holidays to express the values of your brand and boost sales.
Ready to enlist expert Magento developers
for reinforcement?
Leave your contact info, and we'll get in touch with you as soon as we can