Provide your customers with an engaging shopping experience by using an impressive tool — Page Builder that provides ecommerce merchants with an opportunity to easily create and maintain the online store content without any limits and development support.
What You Need to Know about Magento Page Builder
Page Builder is a solution that aims to allow developing content webpages in the drag-and-drop view that is intuitive to the user by working with 'content types' — in-built controls, in other words. A user can quickly find these controls right in the Page Builder's menu.
Page Builder Content Types (Source: Magento DevDocs)
It's available as an extension in a massive selection of alternatives and is also automatically installed into Magento Commerce, so you don't need to connect your store with any third-party systems to introduce it. All you need to do is to enable Page Builder in the Advanced Content Tools or ask your developer to do it. After enabling Page Builder, it will become available for use in CMS Pages, Dynamic Blocks, etc.
Its workspace features all the functionality of the leading website builders, such as:
choosing a layout from a row, column, and tabs;
setting the border and background color, image, or video;
placing elements into layouts — texts, links, headings, buttons, dividers;
inserting media — images, video files, banners, sliders, Google Maps;
adding media content — blocks, dynamic blocks, products, and items recommendations that align with specific guidelines;
using the HTML to introduce snippets of HTML, CSS, and JavaScript code.
Content types and elements placed in the layouts can be edited, moved, hidden, shown, duplicated, or removed with a single click. These features are displayed as icons intuitive to the user.
Page Builder Workspace (Source: Magento User Guide)
Magento Page Builder Benefits
Easy-to-use interface. All you need to add content to your site is select a particular content type from the panel left, drag it to the appropriate placeholder on the website builder, and drop there.
Real-time editing and live previewing. One more useful feature of Page Builder is that you could make changes, instantly see adjustments, and see a final result before publishing right on the website pages.
Ready full-page templates for webpages. You could create webpages, dynamic blocks, product attributes, etc. in Page Builder and save them as templates for further usage, which could considerably save your time and efforts.
Variety of up-to-date content tools. The content toolbox includes a range of options — dynamic blocks displayed to the specific customer segments with cart price rules, products presented in carousels and grids, and product recommendation units.
Endless customizing options. You could use your brand colors, fonts, elements, borders, and text styling to make the online store design catching for customers and create a lasting impression.
Banner with the formatted text in Page Builder (Source: Magento User Guide)
Magento 2 Extension for Building Webpages
You could also use third-party extensions with similar and advanced functionality for your Magento 2 online store. While choosing an appropriate option for your ecommerce business, pay attention to your Magento version's compatibility.
Build a responsive website with a fast page load time using a wide-ranging amount of layouts based on Magento templates and a variety of widgets and other third-party systems supported by the extension.
Price: $99–$1,098
Make the store building process smooth and fast with a built-in advanced editor experience, which offers a vast range of content tools and design features — tabs, scrolling effect, countdowns, megamenus, etc.
Price: $199–$599
CleverBuilder design elements
Make extensive changes to CMS, category, and product webpages with descriptions using different elements — carousel sliders, masonry galleries, charts, progress bars and circles, forms, popups, and even Instagram Shops. The extension is fully compatible with the Magento 2.1.x, 2.2.x, 2.3.x versions.
Price: Free–$919
Take advantage of a robust collection of customizable tools and ready predesigned templates to establish attention-grabbing page layouts for your online store.
Price: $169–$647
Introduce an attractive and fully responsive website design that is good-looking on multiple devices by default — smartphones, tablets, and desktop screens. Choose from a range of elements specific to ecommerce and social media that can be easily customized and used as templates in the future.
Price: $299
Develop multiple SEO-friendly landing pages with customized content blocks and attract traffic to them from search engines to boost your conversion rate. You could also create and promote extra pages that contain specific products and special offers.
Price: $149–$648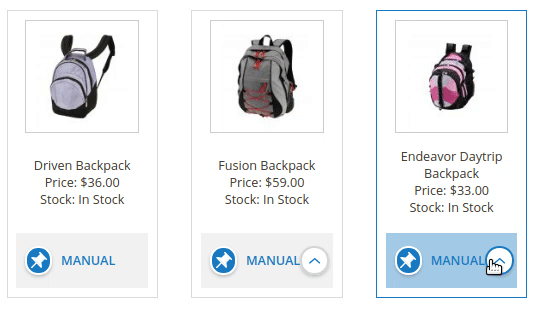 The drag-and-drop builder of the extension
Take the lead of your products' presentation on our website with the online merchandising tool and make them customer-friendly by using custom configurations for layouts and templates.
Price: $99–$254
Why Develop your Ecommerce Website in Magento Page Builder
Reason #1: Save costs on developers' work in the future. Even though developing an online store in Magento Page Builder from scratch takes more hours, and as a result, it costs more, it is an excellent long-term investment. You invest in creating the ecommerce website once, and then you don't need to involve developers anymore to make even extensive changes to your online store's content and visual appearance.
Reason #2: Make changes to content quickly & easily. Your content managers and website admins' skills will be enough to place blocks, fill them with text, insert images, duplicate content, or delete it. More challenging tasks related to the engaging product display will also be undoubtedly within your scope of abilities.
This feature will be incredibly valuable for those ecommerce merchants whose business specifics and assortment require content changes on the homepage as an example for the promotion of products, categories, and special offers.
Reason #3: Deliver a pleasant shopping experience for your customers. The website developed in Page Builder doesn't feature the limited functionality or not enough attractive appearance. You could completely customize it depending on your preferences, create unique layouts, and convey your brand's tone of voice and visual identity to build an emotional connection with your visitors and stand out in the market.
Conclusion
To sum up, we'd like to say that the Magento Page Builder is a perfect solution for those ecommerce merchants who don't have an in-house development team and want to reduce their costs in the long run.
Magecom has developed several ecommerce websites in Magento Page Builder to make it possible for our clients and their admins to manage content without efforts. We build online stores in Page Builder from scratch and create templates of webpages to provide a client's team with an option to duplicate and fill in the content in a crack.
If you are interested in such a feature for your online store as well, please contact us. We'll be glad to communicate with you, provide you with further information if necessary, and help your business.
Subscribe
to our newsletter