In-store pickup is a feature that allows customers to order or reserve products online and pick them up in a store. The dominant factor why ecommerce companies provide in-store pick to customers is its convenience: it allows shoppers to avoid shipping costs and revealing their address details. Besides, customers who can not or do not want to wait at home for the delivery but collect the ordered products by themselves are also very fond of this feature.
A little bit of statistics
According to eMarketer research, 86% of customers declare that they would consider buying a $50 product, if they could save $10 by picking it up in store.
According to another source, Forrester, 50% of customers expect that if a company has a physical store, its address will be featured on the merchant's site.
There are also some hidden benefits for merchants: if customers can save money on the delivery, they are more likely to spend it on additional products and pick them all up at once or purchase additional products when they're in the store.
Examples of in-store pickup implementations
Before we go into details of in-store pickup implementation, let's take a look at a few examples of how this solution can work in practice.
First, we chose Zumiez as an example of great, multi-step implementation of the personal pickup feature. Information about the in-store pickup is displayed on almost every relevant page: the product page, the checkout page, the page dedicated only to in-store pick-up etc. Moreover, personal pickup is also mentioned in the header: wherever on the site you are you can always get back to those informations.
In-store pickup information page: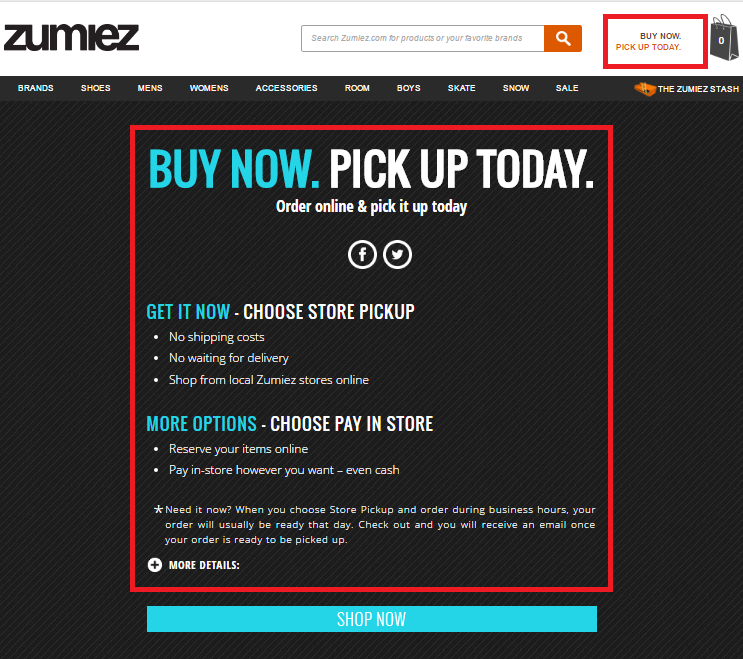 Product page: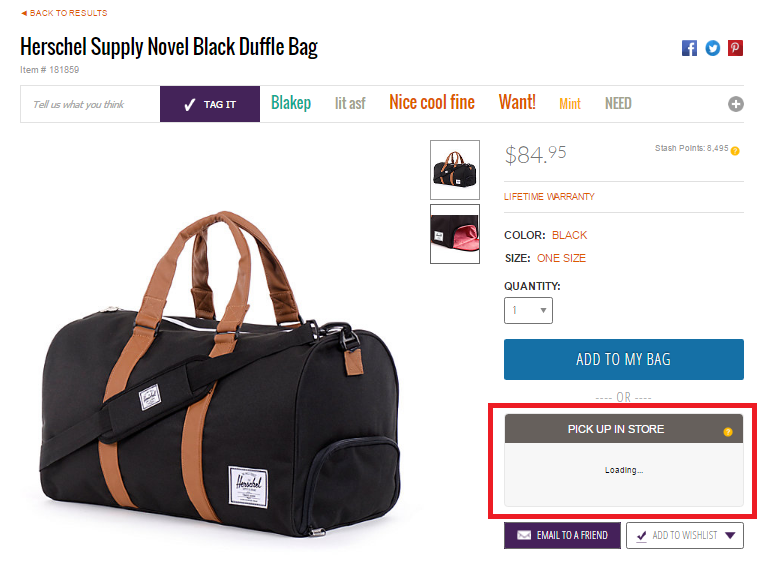 Personal pickup feature displayed on the checkout page: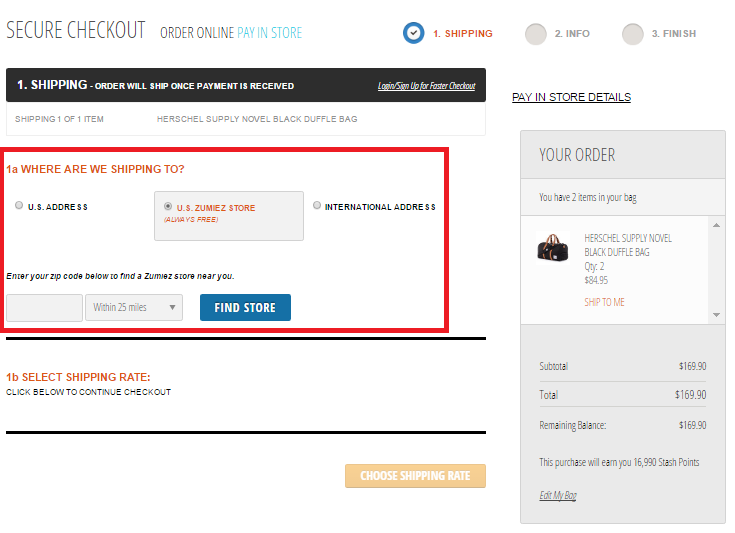 In-store payment option: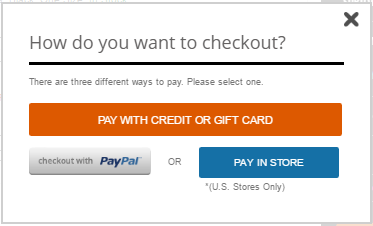 Another fine example of in-store pickup implementation comes from Sears. Simple layout and easy to find pickup options are the main advantages of this solution.
In-store pickup on a product page
: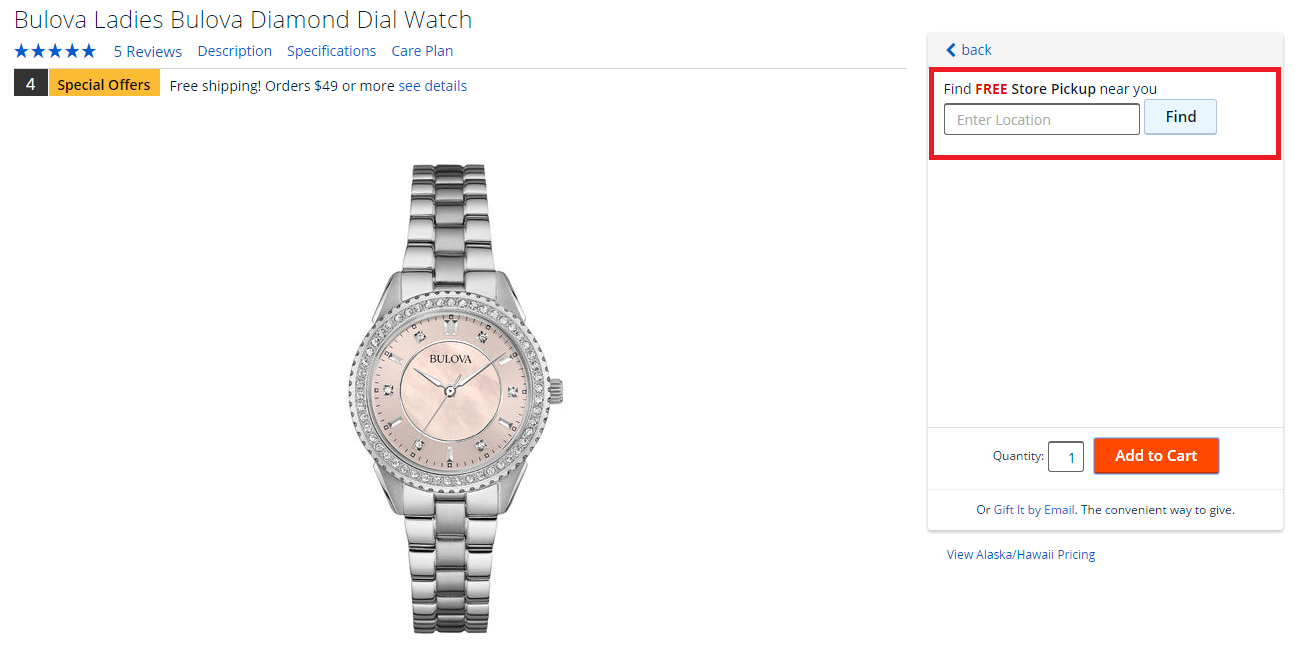 Searching for the nearest store: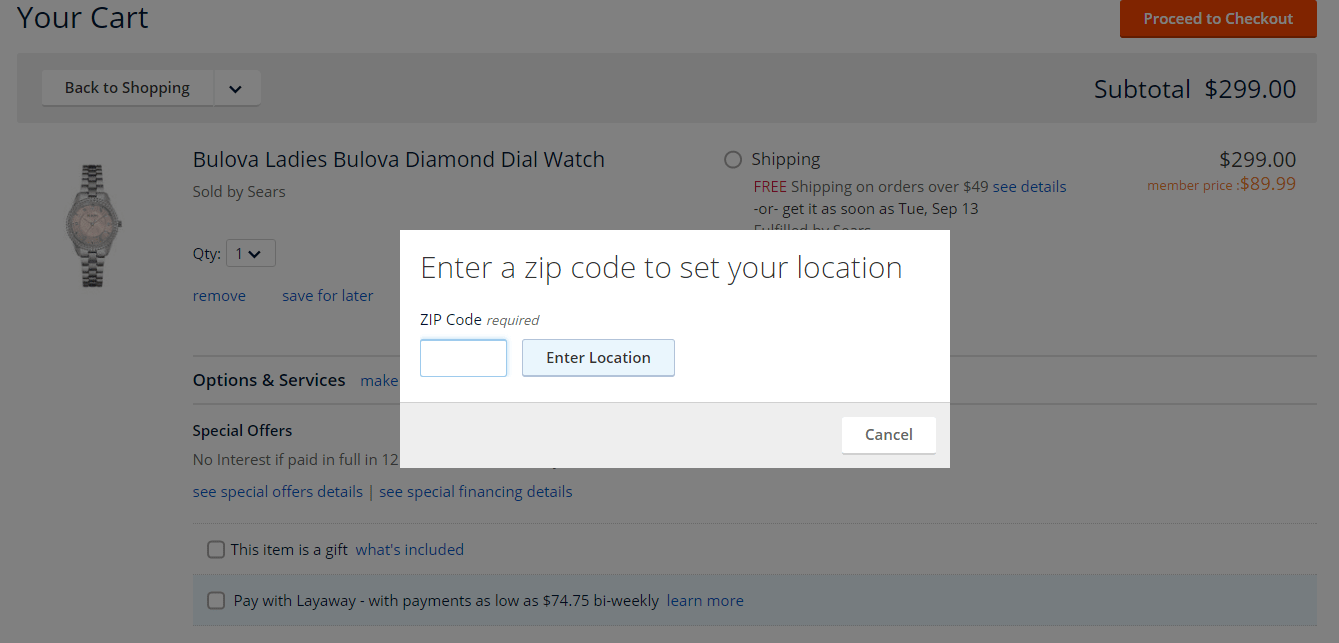 In-store pickup options
So what exactly do we mean when we talk about in-store pickup options? The main features offered by personal pickup solutions include:
For the customers:
Order online and pick up in a store

Choose one of multiple pickup locations

Select a preferred pickup date

View/print the pickup location

View/print the order

Search stores by tags, distance, area

Receive notifications when products are ready for pickup

Include pickup items and shipment items in one order

Pay in store for the ordered products
For the store managers:
Import stores and locations via CSV files

Set open times in mass

Specify the description of a pickup location

Designate a pickup location for each product

Define available pickup dates and times

Track store messages and orders

Notify managers of the selected store

Define available search criteria

Limit the number of stores available on the checkout page

Set a default store on the checkout page

Set minimum and maximum cart value restrictions for in-store pickup.
How to add in-store pickup feature in Magento?
With the right choice of an extension for the task, in-store pickup implementation in Magento is fairly easy, but before you start making changes in your online store, consider the following tips:
Choose which products can be picked up in the store: do you want to make this option available only for specific orders or for all products?

Decide who will be able to pick up products: you can limit this option only to registered customers or make it available for all.

Determine how customers will be able to locate the nearest store: you can use the geolocation option and show nearest stores based on the customers' IP addresses or allow them to search by postcode, city, state, etc.
Decide who will be responsible for

processing the transaction

: how are you going to inform your staff or managers about the details of in-store pickup orders?

Select which payment methods will be available for this option: do you plan to offer your customers pay in store option or do you prefer to be paid beforehand?
To implement basic in-store pickup functionality the only thing you have to do is to choose and install the right extension. We have prepared for you a selection of extensions for Magento 1x and Magento 2x that may be of help to you:
Extensions for Magento 1x:
Magento extension offering all basic functionalities, including store locations on Google Maps. Inexpensive and perfect for a simple implementation.
An extension allows configuring up to 15 store pickup locations. Also, store admin can set different shipping charges depending on location.
The least expensive extension of all three presented here, with a basic array of functionalities to choose from. This plugin offers several search parameters, it is easy to install and quite flexible.
Extensions for Magento 2x:
An extension with a quite impressive list of available functionalities, from many search criteria and setting a default store at checkout to showing real distance to the store and tracking store messages and orders.
This plugin offers basic functionalities to satisfy the most common needs. Unlimited number of stores, displaying directions to the stores from any location and CSS code customization are among the strongest features of this extension.
Personal Pickup is a great choice for every online retailer, who wants to customize the in-store pickup settings, for example, decide which store locations will be shown to the customer based on their postal code or country and which payments methods are available for in-store pickup.
Speaking of more complex solutions: in-store pickup system may be tighed up with your physical store inventory that may help you to avoid some problems. It is not an uncommon thing that two different customers are interested in the same product at the same time: one is buying it online, the other in the physical store. To avoid this kind of situation you can by synchronizing your online catalog with the brick-and-mortar store inventory. But this kind of solution will require additional development.
To sum up, if you run a physical store or can establish a pickup point at one of your warehouses, you can benefit a lot from in-store pickup solution. For you it is a chance to increase sales to local buyers and create long-lasting relationships with them, while your customers can enjoy faster delivery of ordered products for free. Synchronizing physical and online store inventories might be challenging for less experienced retailers, but overall in-store pickup solutions are fairly easy to install, customize and manage, therefore, we recommend them not only to large scale retailers, but literally everyone, who has the means to offer such delivery option.