There is a good reason why Magento 2 and Shopify are called ecommerce "platforms", as they represent a solid foundation of your ecommerce store – the "bricks", the window-shop, the friendly sales assistants and shipping trucks all rolled into one digital instance. You have to be careful in choosing your platform though as it defines the success of your online business.
It is always better to spare some time and read a comprehensive Magento 2 vs Shopify guide beforehand than to launch an online store at a fast clip, only to find out you're missing some features you expected to be. So, let's go.
Pricing & Hosting cost
The first thing you should know is that Magento has 2 editions: Magento OpenSource and Magento Commerce – the latter is an enterprise solution for large businesses, and Shopify has several Shopify plans for small and medium-sized businesses, along with Shopify Plus for enterprise clients.
Magento 2 Open Source is a free platform with open source code that can be easily customized if you have a bit of a technical background, or a trusted development team.
It is self-hosted, which means you'll have to find your own hosting, configure it, download and install the Magento 2 instance, buy a domain name, and an SSL-certificate on your own.
This legwork will pay off with full control of all aspects of your online store and the ease of its customization and scalability. Magento 2's platform allows you to build anything – from modest online store to an ecommerce empire; though you'll need to invest in some customization.
Shopify is a commercial product you have to pay for, designed for not tech-savvy end users, who want all the technical work to be taken care of. Shopify provides its own hosting, domain names and SSL-certificates, along with 24/7 email, chat and phone support in case any questions arise.
While reading some well founded online statistics, you may meet figures as big as 100-500,000 sites built on each platform; but they seem to mean the overall sites built on Magento 1 and 2 platforms. In our research we took into account only sites built on the Magento 2 platform.
While reading some well founded online statistics, you may meet figures as big as 100-500,000 sites built on each platform; but they seem to mean the overall sites built on Magento 1 and 2 platforms. In our research we took into account only sites built on the Magento 2 platform.
When reviewers talk about Shopify's platform, the one thing they leave out most for some reason is the transaction fee. Shopify charges 2% of each transaction in it's Shopify Basic plan, 1% on Shopify plan and 0,5% on Shopify Advanced plan, which considerably eats up your revenue, unless you go for native Shopify Payments. Here is a quick look at a table of Shopify transaction fees:
Shopify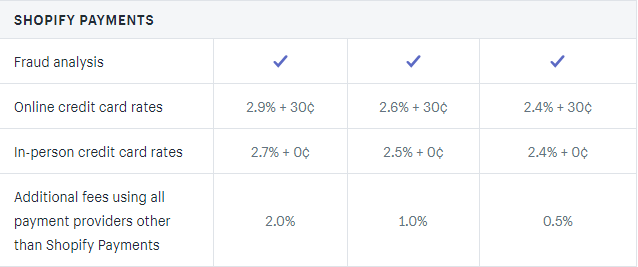 What this basically means is that when customers purchase something with a credit card, they have to pay a payment processing fee anyway. What happens when you are using Shopify Payments – Shopify charges the transaction fees as well as credit card fees which together are lower than if you pay the Shopify transaction fee and payment processing fee separately. So, if Shopify Payments are available in your country, it is wiser to go for them, or upgrade to a higher Shopify plan.
Shopify Plus
Shopify Plus as well as Shopify takes a cut of each transaction on your site. If a transaction is made via 3rd-party payment gateways such as Paypal and Stripe, the transaction fee is 0.25%. And if you go for Shopify Payments, the fee is reduced to 0.15%.
But here's the thing: Shopify Plus has a minimum monthly fee of a whopping $2000. So, if during the month you have sold products which total cost is $50,000, according to Shopify Plus' minimum fee you would have to pay $150. However, don't forget to add to this the minimum monthly fee which brings back the $2,000 payment.
Magento Open Source
Magento platform's are recommended for clients who operate several stores or brands with huge inventories that need to be managed.
As we mentioned above, Magento is a self-hosted platform which means you will need to find a server suitable for your online store. The pricing depends on server bandwidth, disk space, location and type (shared, VPS, dedicated server). While choosing a hosting server keep the size of your inventory in mind; underestimating it could lead to serious performance slowdowns if your inventory is too large for the server space you have.
Even though Magento Open Source is free to download and install, the process may require development skills to have the store up and running. If you have an in-house team of developers, you don't have to worry but if not, you might need help from the outside. Beware of entrusting your store to freelance individuals with dingy recommendations. It's better to work with Magento development agencies who have proven expertise, real client testimonials, and are therefore able to smoothly handle all the development and configuration processes.
Magento Commerce
Magento Commerce yearly fee starts from $22,000, and if your company's Gross Merchandise Value is more than $1 million the fee increases.
Core Functionality
Anyone who once had a chance to test each platform's admin panel, will tell you that Magento has richer core functionality than Shopify.
Magento core functionality is tailored for retail and wholesale businesses who have complex requirements for product management. Among Magento 2 strengths we can name promotions, customer segmentation, merchandising and especially attribute management. And moreover Magento 2 doesn't limit the number of your staff accounts.
Magento Commerce, a premium version of Magento, provides you with advanced marketing features, including business intelligence, targeted promotions, and customer reward programs. And the icing on the cake is that you'll get 24/7 Magento specialists support.
Magento Commerce users also have a choice between on-premises deployment and a cloud-hosted solution. Magento Cloud benefits are:
Cloud availability SLA up to 99.99%
Fast page loading with content delivery network (CDN)
Performance monitoring tools
Enhanced security with Fastly WAF and DDOS services
PCI compliance
Easy deployment
Streamlined updates and testing
As for Shopify, it also provides customer management, discounts, collections, but all its core functions are designed for smaller businesses selling simple products. And it limits the number of your staff accounts to just 2 members, if you're using a plan lower than Advanced option.
That's why it's fair to say that Magento core functionality is much stronger out of the box than the Shopify one.
In terms of products Shopify has 2 types: simple and configurable products which are enough for such businesses as for example art stores or fashion retailers. The number of product configurations in Shopify is limited, so you can choose either color, or size of a product, and that will be it.
Magento Open source edition provides six types of products which are: simple products, configurable products, group products, bundled products, downloadable, and virtual products. Bigger variety of product gives more freedom in customization according to your business needs.
Multi-store Management
Multi-store management is a big key selling point of Magento 2 compared to other platforms. We're talking about different online storefronts, with various suppliers, different warehouses, different products – not just multiple domains on one store.
Shopify platform is not designed to manage multi-stores or multi-brands in one single interface. To set up a multi-store you will need to buy a new separate account, as well as all the Shopify apps again, and double all the settings and product attributes manually from scratch. Shopify's platform implies separate product lists for each store even with the Shopify Plus edition you'll have to create "clones" of your store and manage each of them manually.
At its core, Magento 2 includes Multi-source inventory functionality that is capable of juggling multiple lists of products and brands in multiple countries simultaneously, recalculate remains, send you low stock notifications, choose the closest warehouse location to your customers, and much more. Moreover, you can upload your product list just once, and configure each product with different attributes, pricing, and more for different countries.
Omnichannel sales: offline and online
Shopify plus
Shopify Plus has "omnichannel abilities" as they refer to payments offline included in their monthly cost. They have developed their own Point of Sale (POS) solution which is integrated with Shopify's own card reader, an abundance of receipt printers, cash drawers, and all-in-one point of sales systems. Shopify has recently announced a wide range of omnichannel functionality enhancements such as online returns and exchanges in store, and an improved inventory management across multiple locations. Currently only one inventory location is available to set, which means that merchants have to use 3rd-party tools to manage their inventory. The exact dates of these updates are yet to be announced, but they will mean a big step towards the so called 'endless aisles' – a concept of allowing in-store retailers to access your online inventory from kiosks.
Magento Commerce
Magento 2 Commerce provides 2 options for merchants who want to sync up their online and offline sales.
The first option is to go for Magento Order Management (MOM) which, despite the name, a platform agnostic – its annual license is bought separately for $36K.
The second option is using 3rd-party extensions, which will save up your money, but you'll need to pay heed to the regularity of their updates and security patches.
Business management and reporting
Magento Commerce
Magento 2's default reporting dashboard has not changed much since the times of Magento 1, and it loses in functionality to Google Analytics, if compared. However, starting from Magento version 2.2.x a free advanced reporting option based on Magento Business Intelligence (BI) is available. You can set it up easily from the admin panel without any developers involved.
Magento BI is a cloud-based solution to be bought separately if you need some serious business analysis. It can glean data from 3rd-party sources, cush as Google Analytics, your ERP or CRM which it represents as graphic stats in various customizable dashboards.
The monthly cost of Magento BI is also dependant on your Gross Merchandise Value, and can reach anything from $100 to $2000.
Magento BI may also be tricky to install correctly, so you will need a hand from your Magento 2 retainer to check if everything is up and running correctly. We recommend to subscribe to Magento BI in these 3 cases:
Magento Advanced Reporting is not meeting your requirements
There is no other source of in-depth data for your store (such as Power BI or JET reporting)
Your budget allows you to try
Magento OpenSource
Magento OpenSource users as an option have the stripped-down version of Magento BI called Essentials. Its cost starts from $100/month and what you get for it is the following:
5 dashboards
100 predefined reports
Unlimited number of custom reports to create
5 Magento Commerce Tables
10 user access accounts with the possibility of setting permission levels
Email scheduling of the reports
What you don't get with Magento BI Essentials is full API access and access for 3rd-party integrations – that comes with the Pro version.
Shopify
Shopify has 13 detailed sales reports built-in with no additional fee applied. There is also a possibility to add Analytics and Reporting APIs if these reports are not enough.
| | | | | | |
| --- | --- | --- | --- | --- | --- |
| Analytics and reports | Shopify Lite | Basic Shopify |  Shopify | Advanced Shopify | Shopify Plus |
| | ✓ | ✓ | ✓ | ✓ | ✓ |
| | ✓ | ✓ | ✓ | ✓ | ✓ |
| | ✓ | ✓ | ✓ | ✓ | ✓ |
| | – | ✓ | ✓ | ✓ | ✓ |
| | – | ✓ (5 of 6) | ✓ | ✓ | ✓ |
| | – | ✓ (1 of 5) | ✓ | ✓ | ✓ |
| | – | ✓ | ✓ (10 of 11) | ✓ (10 of 11) | ✓ |
| | – | – | ✓ | ✓ | ✓ |
| | – | – | ✓ | ✓ | ✓ |
| | – | – | ✓ (5 of 7) | ✓ | ✓ |
| | – | – | – | ✓ | ✓ |
Themes, Integrations, Extensions, and Apps
That is a tie for both Magento 2 and Shopify as both of them have a well-developed marketplace with hundreds of themes and templates, extensions and apps, either free or paid.
Here we need to mention that Shopify themes are proprietary and do not allow much customization, when Magento 2 themes are as responsive as playdough, allowing you to sculpt your own brand visual identity.
The only difference is that if you are not that tech-savvy, you would definitely like Shopify's drag-and-drop theme editor which allows you to move and hide theme blocks and change their look and colours manually. And if you (or your team) have a solid vision of your theme and technical skills you would leverage the customization freedom of Magento 2 open source code.
While choosing themes pay attention to their reviews, functionality, SEO, and mobile friendliness and suitability to your store's structure. We would not recommend using free themes on both platforms as they are not verified and may not be compatible with your store, nor meet all the aforementioned requirements. A Premium Shopify theme cost varies from $16 to $900, and a Premium Magento theme cost is more affordable – in average it costs from $17 to $300.
There are more than 2000 extensions for Magento 2 and apps for Shopify that cover all kinds of ecommerce purposes: SEO, marketing, blogs, integration with 3rd-party ERP, shipping and payment systems, etc.
Extensions and apps are effortless to install and user-friendly. The only major difference between them is that most of Magento 2 extensions have an annual billing cycle, and most of the Shopify apps have monthly billing cycles.
Payment gateways
The number of build-in payment gateway options can be the deciding factor when choosing between two platforms. On the one hand, it may seem that Shopify beats Magento 2 here. It comes with 70 payment gateways out of the box, and has its own payment gateways built-in, but on the other hand Shopify charges from 0.5% to 2% of each transaction on your store depending on your Shopify plan when your clients use external payment gateways to pay. At the same time Magento 2 has 2 payment gateways out of the box – Paypal and Braintree, which can be increased with the help of extensions later, without a transaction fee.
SEO
Talking about SEO, Shopify has several default tools and even more SEO apps, but all of them are limited because Shopify is a hosted platform. So, if you need to edit your URLs structure and hierarchy, or configure server settings, you'd better go for the Magento 2 platform.
Magento
Magento comes with the following built-in SEO-features:
Direct access to robots.txt, sitemap.xml, CSS files
Creation of images sitemap.xml
SEO-friendly URLs
Editing meta tags: title, description, alt
Canonical tags
Schema.org in default template
Product labels
Internal linking between products
And what's more – Magento offers accelerated loading speed thanks to Ajax add-to-cart, minimised JS, Varnish cache, and PHP7 support.
Shopify
| | |
| --- | --- |
| Shopify SEO pros | Shopify SEO cons |
| Built-in basic SEO features: editing meta titles and descriptions, headings, images alts, creating custom URL names, setting 301 redirects and canonicals, adding Google Analytics code | No access to robots.txt or sitemap.xml files – which are the basics of SEO optimization. The files are generated automatically by Shopify. |
| Big variety of SEO apps: there are 224 apps extending SEO features on the Shopify App Store. | No access to CSS files. Every site owner uses Google PageSpeed Insights to optimize their site's loading speed on desktop and mobile devices. Which is impossible without root access to CSS files on server. |
| Good speed and uptime: since Shopify is hosted on its own servers, they have created an uptime status page where all the metrics and issues are listed. | Strings in URLs: Shopify automatically adds an extra string to your pages' URLs, such as /product/, /pages/, /blog/, /collections/ which means an extra nesting level and poorer accessibility for search crawlers. |
|   | No subcategories out of the box – they are names "subcollections" and require coding to be created. So, for example, you can organize your blog posts using tags only. |
|   | Non-ecommerce content, such as pages and blog posts do not adapt automatically if you switch to another theme. |
|   | No social sharing buttons out of the box. If you want your content to be shared across  social media, you'll need to find a Shopify theme providing social sharing buttons or go for an app. |
Shopify provides 24/7 support via email, chat and phone calls but only on the merchant level. The support covers issues related to marketing, general platform-related questions, and minor technical issues. If you need support on some major development issues, you will need to pay an additional fee which may exceed an average Shopify retainer's fee.
Support & Community
Magento 2 comes with only developer support. There is no free 24\7 phone support, but you are able to purchase the support hours of a Magento Technical Account Manager.
The saving grace is that Magento 2 has a vast community of Magento 2 partners and specialists, who share their experience on Magento forums, Github, and slack channels. So, in case any question arises, you will be always able to find a person who already faced it, solved it and documented the process.
Aside from official support, there is a second option – asking the community in person. Both platforms have hundreds of top level developers who are not only creating thousands of online stores, apps and extensions, but are always glad to share their valuable insights on annual ecommerce conferences that stretch the globe.
Conclusion
All these comparison charts and complicated functionality lists may seem confusing while choosing a platform for your business. So, to be short, answer three simple questions: do your products have more than 2 attributes? Do you have more than 3 stores? Does your product list exceed 400 SKUs? If yes, Magento is your choice. If no – Shopify is. It's that simple 🙂
In case you want to see some real examples of online shops in action, here are some fantastic Shopify stores and some Magento website examples.
Want a demo of your business? It will only take a few clicks to get it from the Magecom team, so don't hesitate to fill in the contact form below.
Subscribe
to our newsletter