Top 5 Magento Stores Examples & Magento 2 Demo Store [Bonus]
If you wonder who uses Magento websites, keep reading our selection of five Magento online stores with an overview of features their customers are fond of.
Big Brands with Magento eCommerce Sites
Over 88K websites worldwide run on Magento, which is an extremely powerful, customizable, and flexible platform suitable for improved conversions and exponential growth. Of course, to customize and configure the platform, you need the help of the team of professionals. But the market offers you a great choice of companies and agencies, where you can find your dedicated team.
For example, TopDevelopers offers you a list of companies that can help you with any kind of development. And once you team up with trusted partners, your Magento store will be up to the highest standards. And believe us, it's worth it! Just look at the list of these top Magento stores:
Magento Online Stores – Example #1
Clean Origin is an ethical and environmentally friendly diamond engagement jewelry brand from the United States. Moreover, it offers a wide range of functionality that delivers an exclusive shopping experience as a result.
'Design Your Ring' Product Builder
One of the most prominent features is a product configurator product configurator that provides users with an option to build a perfect engagement ring in three steps: configure a setting, choose a diamond, and add a complete version to the cart.
It considerably enriches the user experience by offering a unique and sophisticated product that completely meets customer expectations. By the way, as stated in Bain's research, purchasers who built their own products evaluated brands up to 50 percent higher than those who purchased simple products.
Integration with Yotpo to Provide Social Proof
According to HubSpot, an average shopper explores at least ten online reviews before making a purchase decision. Clean Origin takes full advantage of the social proof power and displays reviews with Yotpo, an ecommerce marketing solution easily integrated into Magento store, which collects and displays customer reviews and ratings. The jewelry brand has a section dedicated to reviews on the homepage, product pages, and a separate reviews page.
Virtual Appointment
A virtual appointment is the perfect way to prepare a surprise gift for your future fiancée or partner. Clean Origin understands how important such presents can be and offers to connect you virtually with a jewelry expert who can provide personalized advice on choosing the perfect piece.
This feature is extremely convenient in our post-pandemic world, where we've become accustomed to doing everything from the comfort of our homes. And the best part is that it's easier to keep your surprise gift a secret until the perfect moment to present it.
Magento Online Stores – Example #2
Belleze is an online store that offers a wide variety of home and outdoor furniture, decor, and appliances at affordable prices. The brand specializes in providing stylish and functional products for every room in your home.
'Compare Products' Feature
A product comparison feature enables customers to compare multiple products side-by-side and make more informed purchase decisions.
By offering a product comparison feature, online shops can provide a more comprehensive shopping experience, helping customers to easily identify the key differences between products, such as price, features, and specifications. This can increase customer satisfaction and loyalty, as well as help to reduce the number of returns and exchanges.
Personalized Product Recommendation
According to Automat, almost half (49%) of consumers report buying a product that was not part of their original purchase plan, after receiving a personalized recommendation.
Belleze offers shoppers to view more products they might like while scrolling down the product page. Such personalized recommendations keep customers on the website for longer and encourage them to explore more products.
It can also increase the likelihood of cross-selling and up-selling, as customers are presented with related or complementary products that they may not have considered before. This can help to increase the average order value and overall revenue for the ecommerce store.
'One-Click Payment' powered by Link (Stripe Payment)
Studies show that 26% of online shoppers tend to abandon their carts when the checkout process is excessively lengthy or intricate. And Belleze took care of the quick and easy checkout process for their customers.
By simplifying the checkout process and making it more convenient for customers to make purchases, Belleze can increase conversion rates, reduce cart abandonment rates, and ultimately drive more sales.
Magento Online Stores – Example #3
Caffè Mokarico is an Italian coffee brand that offers its products throughout European countries and aims at reaching specific audience segments.
Multi-Store with Multiple Languages
Expanding to new markets is available in Magento by implementing multi-store functionality that allows running multiple stores under one installation, while each to be translated into its own language.
The Caffè Mokarico multi-store is developed in five languages — English, Italian, French, German, and Chinese — which could be easily found by users in the bar.
User-Friendly Category View & Galleries
Categories are structured and displayed in a user-friendly and customized way, which forces shoppers to enthusiastically interact with website elements and provides a rich shopping experience.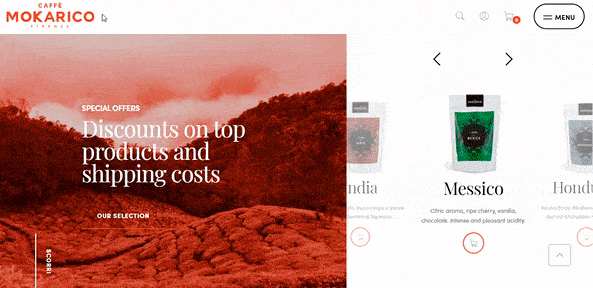 Training Courses for a Particular Audience Segment
Caffè Mokarico also sets sights on creating a community of coffee lovers and professional baristas around their brand. That's why they hold courses and classes for different levels of proficiency. All the information is well-structured on the separate website page and allows users to complete a form for registration.
Magento Online Store Example #4
The Rug Company is a luxury modern handmade rug brand from the UK, which provides purchasers with exclusive features and shopping flow.
Product Filters for Better Navigation
To make the search for products more efficient and fast, the brand implemented a specific set of product filters — availability, style, color, price, size, designer, material, room, and type. They're smoothly aligned with the whole web design and organize a vast assortment of products on the page.
High-Converting Product Pages
The brand's product pages are built according to all standards of effective and conversion-friendly product pages. They stand out for detailed and systematized product information, including delivery, returns, and shipping data, and comprehensive information on the interior designer. Customers also have customization options to modify rugs just up to their expectations. Users can also discover the brand's competitive advantages after scrolling to the bottom of the page.
Particular attention should be given to the high-quality images that show products from different angles, which allows clearly imagining one specific rug in your own interior.
Showroom Locator to Drive Sales Offline and Online
A showroom locator can help to increase foot traffic to physical stores and improve the overall customer experience, as customers are able to choose a location that is convenient for them.
Additionally, this feature helps to increase brand awareness and visibility by showcasing the various locations where the brand is available. This can help to build trust and credibility with customers, as well as increase the likelihood of repeat business.
Online Catalogue for Better Product Demonstration
The brand specifics and its positioning infer unique and exceptional features, such as an e-catalog. It showcases an online magazine full of vivid images of modern interiors. The products used in those interiors contain links to the shop.
Magento Online Stores – Example #5
Shinola is a luxury design retailer from the US aiming to deliver user-friendly features that help customers in their purchasing decisions. They also heavily contribute to creating personalized tricks that enhance the customer journey.
Mega-Menu for Easy & Intuitive Navigation
Shinola's assortment is quite broad, so they face a challenge to properly organize piles of information in their menu to make the navigation for users convenient and fast.
They successfully deal with it by implementing a mega-menu, structuring all categories.
Gift Guide to Deliver Holiday Mood
Keeping your eyes peeled for a promotional calendar is essential for online businesses, as holidays bring massive sales and traffic peaks. The most important thing here is to find holidays that resonate with your brand and audience.
Shinola wants to help their customers to celebrate Mother's Day with a special gift guide and a broad assortment of well-crafted items that can highlight the spirit of this day. It makes the search for gifts easier and more effective.
Book an Appointment Feature
The Shinola brand takes a step further in providing customers with a personalized experience through an option to book an appointment with their style curator in different ways — by phone, video, and in-store — and select an appropriate location. After choosing a location, users receive a confirmation email and a reminder notification a day before the appointment.
Customizing Option for Personalized Gifts
Deloitte research has recently revealed that more than 50 percent of consumers express a deep interest in buying customized products and services. But wait, there is more! They're ready to pay more for such items and even get involved in the process of manufacturing.
Shinola delivers one-of-a-kind products for their customers by offering engraving on some items, which are systemized in a separate category.
Bonus: Magento 2 Demo Store
If you're interested to see how Magento looks from the inside, then a demo store is a real godsend!
Use our link to go to the Magento demo store and explore every corner.
Username: admin
Password: MagecomMagentoDemo1!
Once you log in, you'll be taken to the dashboard page on the Backend part of the store.
All changes you'd like to make should be saved first of all before exiting, and then you can see them on the Frontend. Be sure to have a look at how the store's appearance has changed by clicking on admin in the upper right corner and selecting the Customer View.
Conclusion
Keeping track of competitors and best practices may bring considerable benefits to your business growth. Magento design and development services could help you implement personalization, provide social proof, drive sales, and demonstrate products in a much more efficient way.
Ready to enlist expert
Magento developers for reinforcement?
Leave your contact info, and we'll get in touch with you as soon as we can