Web2Print and Magento: Implementation Strategies
Are you into branded apparel, customized merchandise, invitations, posters, banners, or even books?
If so, anything that requires changing text or uploading images directly to the website and integrating with your products could be quickly done with the web to print technology, a.k.a. web2print. This functionality enables your customers to create, edit, and sign off on computer-based artwork or personalized products without leaving the comfort of their homes.
Web to Print in Ecommerce: Benefits & How it Works
By implementing web2print solutions, you can benefit in many ways:
✔ reach a broader audience;
✔ save up time you would spend on personal meetups and negotiations with potential customers;
✔ streamline the approval process;
✔ speed up repetitive orders (e.g., business cards, marketing materials, etc.).
And, this list with benefits is far from being complete.
What is Web2Print
Though the whole thing sounds a little bit cumbersome, it is not at all. To give you an idea and illustrate what we are talking about, look at the examples below. For instance, we wanted to create a branded T-shirt for our team and decided to order it from UberPrints.com. This website is an excellent example of user-friendly web2print functionality implementation and usage. The creation process consists of several simple steps we were to take — everything intuitive and easy to follow.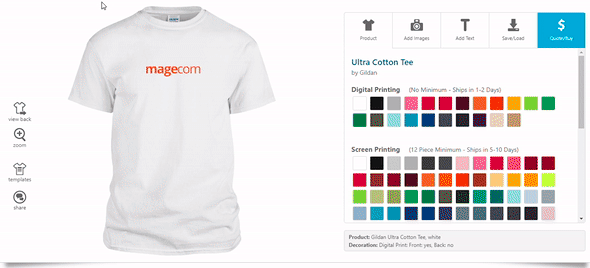 This kind of solution is basic, allowing adding just text and adding an image, or on the contrary — very complex and powerful as some popular visual web editors. Frequently, there are many predefined products and templates available where customers can alter specific components such as typeface, images, or layout before checking the preview of their efforts – the final look of the end product they have tailored to their needs.
But it is also possible to give them the option to create them from scratch, use their vivid imagination to the extent they want, and use their skills. One of the options that we like about web2print solutions: after the design process is complete, customers can easily share their final pattern with friends.
In our list below, you will find the most popular web2print features incorporated on the ecommerce sites:
✔ Management of fonts, clipart, colors, etc.;
✔ Image editing tools;
✔ Templates upload and online creation;
✔ Dynamic imaging;
✔ Products/designs storage in the customer area for the latter purchase;
✔ The created template downloads Sharing of the developed product images in social media or via email.
Apart from user tools, various admin options allow adding new fonts, restrict certain areas of a product image, or enable or disable particular products in the catalog for customizations.
Pro tip: It is an outstanding practice to have an in-house designer who would do all the magic and polish customers' design patterns that are too raw sometimes and of poor quality.
Web2Print Implementation in Magento: Available Options
Magento does not offer web2print out of the box.
However, if you want to implement it on your ecommerce site, you can consider one of the three scenarios:
✔ Installing an extension by adding nice web2print features to your site, which you'll find below.
✔ Integrating it with the third-party web to print softwares or services. The drawback is that you can barely customize it, so you will need to deal with the features as it is in the initial version.
✔ The third option is a bit more sophisticated; thus, it will cost you more: you can hire Magento developers to create a business-specific web2print solution for your particular ecommerce site.
Web2Print Extensions for Magento 2 Sites
When it comes to extensions: do not expect a lot.
There are likely to be just a couple of them that could offer that range of options web to print software does; we cannot promise either that the extensions will work smoothly. But if you need web2print functionality incorporated on your site and your budget is small — this scenario is for you.
At the most basic level, web2print options include changing the color palette and adding text to certain areas defined by the admins. You can easily cover this functionality with the help of these few extensions.
Milople helps shoppers create personalized merchandise by adding text buyers want to appear on their tees, grooming it after, and adding up clipart or other visuals on top of what they wrote up. As an admin, you can pick the area for customization and save the design patterns created in the zip folder. Milople offers an upgrade option free of charge throughout the year after the extension is bought and guarantees free support for several months and the previous manufacturer.
If you feel like most extensions are still missing something, check out this more advanced option that is rich in features and offers way more opportunities to stay ahead of the curve.
Price: $102–$252
The team of Webkul developers has crafted yet another product designer extension to address customers' itch for creativity and self-expression at your online shop.
It has a decent range of options to play with, selecting colors, rearranging objects in order, changing text effects, etc. Customers can even store the progress and get back to what they have made prior in case they plan to place another order for the same or similar items.
Price: $199
Aitoc allows shoppers to choose among a handful of graphics types, options to rotate and reorder objects, and format text style. Regardless of what your customers want to order, this add-on is likely to boost your store's chances of being a creative spot — be it a flyer or a greeting card, etc.
Aitoc's extension offers an easy change of default product samples, making it fantastic for merchants that look forward to growing customers' loyalty by creating more room for self-expression.
Price: $299–$599
Before making the final decision on which extension to pick, you might want to consider the payment option. As a rule, you pay once for the extension and get email support and a free upgrade option during a specific period after purchase.
Integration with Web2Print Software
Whatever floats your boat – flat fee or monthly based pricing option — the solutions specified below have connectors to Magento to suit your particular business need.
Pixopia is a comprehensive solution that comes in three flavors: a hosted ecommerce web2print storefront, standalone HTML5 Design Tool, and a plugin for Magento. As a Magento store owner, the third option is what you need: you install it on your server and use it independently.
On top of all the features that the above-described extensions include, the tool allows you to apply a plethora of image filters it has (hello Instagram lovers). Users can also adjust text inward or outward if they are into round products such as chips or coins and make the most out of eyedropper color picker, allowing them to choose a color shade from the existing design pattern.
Like our previous choice, this is another HTML 5 based software that can be used as a hosted solution and integrated with your site.
Among all other options, Design'n'buy enables you to offer on-demand quotes for customized design in real-time and respond to customer queries in a blink of an eye. The extension supports all main features such as text, clipart, fonts, and even QR codes and offers a 3D preview of merchandise that you can customize by your enthusiastic shoppers.
Having extensions for Magento 1 and Magento 2, Brush your ideas offers plenty of opportunities to turn your online store into a comprehensive design studio.
This design tool is there for customers accessing the ecommerce shop from any device. Brush your ideas helps shoppers add more personalization to the items at your web store by printing on slogans, personal pictures, and text they choose on the merchandise you sell.
Conclusion
We hope we've given some valuable tips and food for thought in our article. Explore your horizons and grow revenues building customers' loyalty. Add various order options to your ecommerce store in a few simple clicks to make it possible for your customers to create unique merchandise and personalized products.