One-Step Checkout vs Multi-Step Checkout: Comparison & Examples
Shopping carts and checkouts are absolutely crucial parts of any online store because these are the places where customers usually abandon.
Crafting the right checkout process is not as easy and quick as it seems. Currently, there are two main scenarios for checkouts:
One-Step Checkout Benefits & Stats
Many Magento website designers and online store owners believe that one step checkout is a silver bullet for your store, and it converts like crazy. Many customers ask us to install one-step modules, but these requests are usually encouraged by this kind of extensions' mere popularity.
Consider the reliable statistics that prove the usefulness of this kind of checkout. For example, the Elastic Path A/B test showcased that the one-page checkout conversion surpassed the traditional one by more than 21%. Another powerful argument in favor is a range of results prepared by the Baymard research that revealed the fact that one of the widespread motivations for cart abandonment is a difficult and long checkout. By the way, we've already covered this topic in another blog post, where you could find tips on how to avoid an overloaded checkout with too many required fields, many steps, etc.
Here's a list of benefits of this kind of checkout:
✓ Needs fewer clicks/actions for purchasers and is less time-consuming;
✓ Clear and simple flow for shoppers;
✓ Results in higher conversions and performs as a great way to convert impulsive buyers;
✓ Provides better user experience and decreases the average cart abandonment rate;
✓ Allows shoppers to purchase as a guest user without mandatory signing up.
One-Step Checkout: Magento Best Practices
PICTO Watches
The Danish watch brand collected necessary sectors and fields on a separate page. Interestingly, they placed a Review Order part right before final placing an order to let customers see products of an order once more.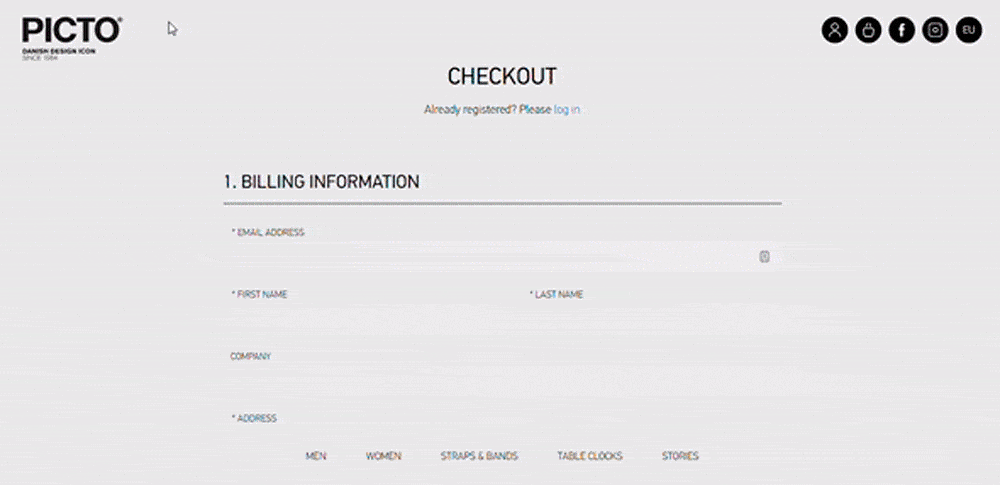 Stadium Goods
The US sneakers and streetwear store offers two ways of placing an order — as a guest and logged-in user. The first one is effortless and takes less time, including only shippings and payments.
Cuyana
The US women's premium clothing store also offers users a guest checkout. First of all, customers could choose from a shipping or in-store pickup as delivery options, then they could specify their shipping and billing info while checking out products of an order on their right, which is quite convenient and conversion-friendly.
Magento 2 Extensions to Implement a One-Step Checkout
The commonly used extension used by more than 20K ecommerce businesses offers a variety of considerable benefits for sellers. It provides basic UX features, functionality for users to adjust product quantities on the checkout stage, making payments and shippings default, setting some checkout fields as unnecessary to fill, and extensively editing the checkout.
Price: $570
Compatibility:
Magento 2 Open Source (CE): 2.1–2.4
The simple-to-manage extension integrated with the address suggestions functionality optimizes the checkout to turn it into a conversion-friendly flow and enables purchasing in a couple of clicks. It automatically updates customer data, supports different payments, and allows merchants to offer gift packages and buyers to add comments to orders.
Price: $199–$399
Compatibility:
Magento 2 Open Source (CE): 2.1–2.3
Magento 2 Commerce (EE): 2.2–2.3
The handy and convenient extension could be quickly customized with the intuitive builder. Merchants may choose from various adaptive and conversion-friendly layouts, set up it quickly, and track performance in the built-in analytics section that helps analyze the sales funnel on every step and form.
Price: $319–$619
Compatibility:
Magento 2 Open Source (CE): not specified
Magento 2 Commerce (EE): not specified
If you're seeking a single-step checkout extension with flexible settings, pay attention to the Smart One Step Checkout, which offers all of those advantages you'll benefit from. Let your purchasers fill in coupons and gift cards and manage shopping cart contents smoothly and without distractions.
Price: $279–$999
Compatibility:
Magento 2 Open Source (CE): 2.3–2.4
Magento 2 Commerce (EE): 2.3–2.4
Multi-Step Checkout Benefits & Stats
Have you ever thought about why the top online sellers actually use multiple-step or multiple-page checkouts? Everything depends on the target audience and your specific business. What works for Amazon might not necessarily work for you, but we recommend you have your own little research on this before deciding which option you will go with.
Let's refer to the figures and research that will show us the way. As stated in the TLG Commerce report, despite an established opinion that a single-stage checkout performs more efficiently and leads to the higher conversion, the experiment shows that there's a slight difference between them in identical conditions. By the way, you could also conduct such an investigation with A/B testing and provide the solution that works efficiently for your business. Moreover, a checkout containing a single step is usually more difficult for buyers and overloaded, full of accordions and expanders that negatively influences the UX, as reported by the Moovweb paper. Finally, single-stage is quite slow in Magento, though some workable solutions help speed up the checkout.
Here's a list of advantages of this kind of checkout:
✓ Collects customer data, therefore, returning customers with abandoned carts may be more efficient;
✓ Provides a clear and well-structured layout;
✓ Allows merchants to configure Google Analytics and track the sales funnel results on each step.
Multi-Step Checkout: Magento Best Practices
Baum und Pferdgarten
One of the leading Danish fashion webshops contains the checkout that includes two main steps — shipping and payment information. Until a user fills in all of the first section fields, the second will not appear.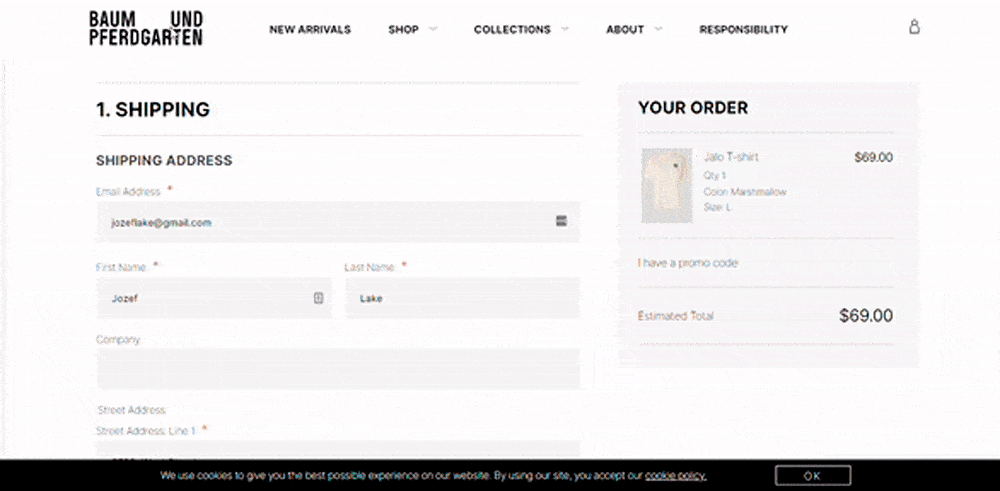 Crumpler
The Australian designed backpacks, laptop & casual bags brand offers shoppers a three-step checkout process with a sidebar that displays the progress and allows users to see what is next.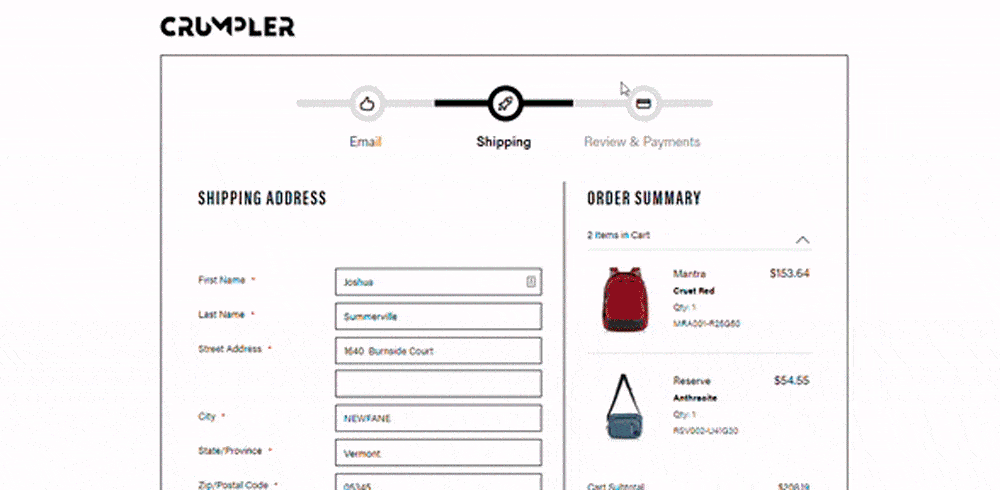 Myza
The online marketplace also suggests its users passing a traditional multi-step checkout and filling in email addresses, shipping information, opting for payment services, and confirming an order.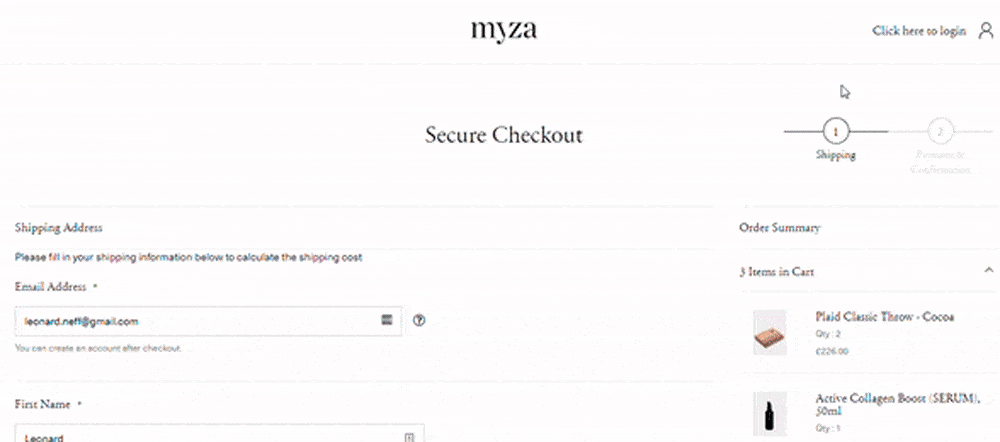 Magento 2 Extensions to Implement a Multi-Step Checkout
If you're willing to gather more customer data, consider adding more fields into your checkout by using the extension, which provides a varied selection of different field types. You could also add some extra fields to specific products or assign them to a particular stage.
Price: $99.99
Compatibility:
Magento 2 Open Source (CE): 2.1–2.3
To make your checkout more informative, detailed, and extensive, you could build and configure custom fields, make them required or not, and easily manage steps. The extension supports multiple payments and shippings and makes it possible for users to conveniently see progress and view which step they're currently taking.
Multi Steps Checkout for Magento 2 extension
Price: $79–$158
Compatibility:
Magento 2 Open Source (CE): 2.0–2.4
Magento 2 Commerce (EE): 2.0–2.4
Conclusion
Like with anything else, think about your own business and your own target audience because there is never an ultimate approach. If you believe that a specific solution is comfortable for you — it doesn't necessarily mean it'll be comfortable for your customers. User behavior can't be guessed, neither can it be logical because they are not robots. To get more information about the option that will work for your store consult usability professionals or experienced Magento designers. Or there is one more way — try both options, run some A/B tests and manual user testing to see what converts best, and then you will know if you did it right.