According to the McKinsey & Company report, we're all facing a total reimagining of physical networks and stores. They remain to be significant for consumer experience and turn into fulfillment nodes to enable faster delivery. Actually, saving money on delivery is another important reason why customers prefer to shop or pick their orders in brick-and-mortar stores.
Therefore, if you market items or services through a chain of physical stores bundled with online channels, it's a brilliant idea to help your potential buyers locate these stores by introducing a unique feature to your online shopping cart. This solution has many benefits, but the main goal is to provide your purchasers with a convenient way to find the closest shop and plan how to reach there.
Let's look at how international brands such as Harvey Nichols, Chopard, and others have implemented this solution. Their sites contain a strategically placed element/link indicating that this company also runs offline stores. Those elements/links are usually placed somewhere in the header, and pursue a goal to redirect visitors to web pages offering info on the location of shops. These elements/links can be called 'store locator,' 'our stores' or 'find a store,' but it's virtually the same kind of functionality.
Store Locator Best Practices on Magento 2
#1 Baum und Pferdgarten Store Locator
The easiest and most cost-effective way to notify your buyers about your shops' location is to build a regular CMS web page with shop names, addresses, photos, and other useful information. It's a useful suggestion if you run or cooperate with a few physical shops because you could structurize details so that it is visually graspable and assisting for purchasers to discover the information they are looking for. Nevertheless, the more shops you'd like to insert here, the more complicated it would be to highlight key information and capture your prospects' attention.
Baum und Pferdgarten has only one flagship store, that's why they gathered all the crucial information about it on a separate page.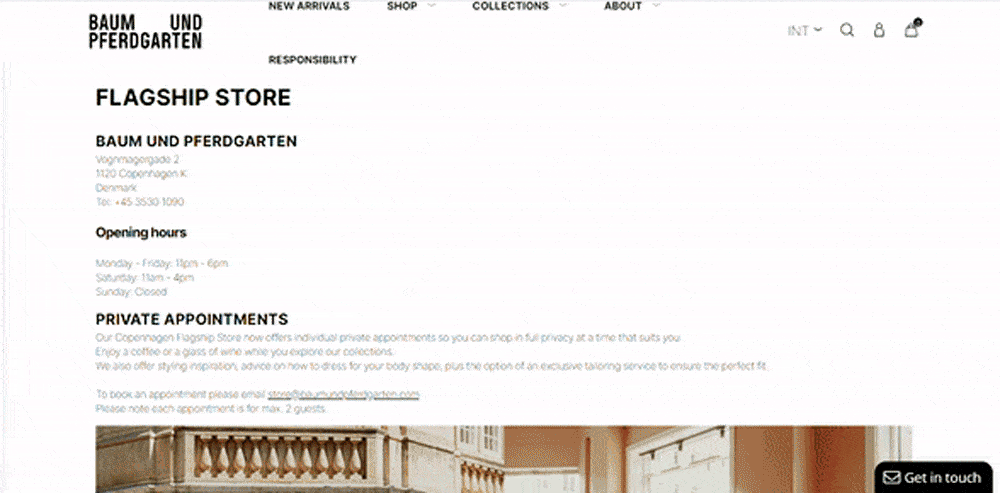 Baum und Pferdgarten Store Locator
#2 Harvey Nichols Store Locator
A more advanced way is to create a general location page linked to each store's landing page. This solution is not only more user-friendly but also convenient from the SEO perspective because you can create spider-friendly URLs for each page and add specific keywords and other meta information for each location. For instance, a British luxury department store chain — Harvey Nichols — collected all the stores in one place with an option to go to every store page with photos, opening hours, location, and transport details.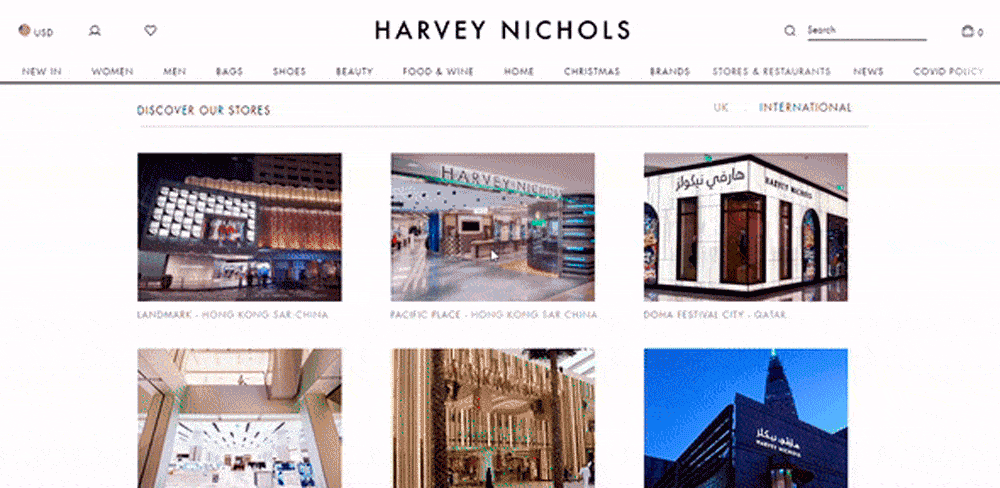 #3 Johnny Bigg Store Locator
CMS pages providing info about the system of your brick-and-mortar shops have their advantages, although, if you limit your location functionality only to CMS web pages, you deny your buyers the most convenient alternative — the so-called store locator.
A general idea behind the functionality is to allow purchasers to view the location of your shops on Google Maps. In such a way, prospects could conveniently plan the best route to your shop or discover the closest one to their homes or places of work. This solution has several variations, but the main principles remain the same in every version of this functionality. The most popular features offered by the store locators are:
On the customer side:
✓ Search by distance;
✓ Search by area (based on the address or zip code);
✓ Filter by category;
✓ Display store opening hours, address, in-store events, contacts, etc.;
✓ View the list of all stores on Google Map;
✓ Display detailed directions on the map;
✓ Contact the store after selecting it.
On the store administrator side:
✓ Import store information in mass via CSV file;
✓ Upload custom marker icons to show locations on the map;
✓ Enable/disable zoom and the map type change (satellite or map view);
✓ Specify how to display search results for store locations (by title, position, distance);
✓ Highlight and move to the top of the 'featured' locations list.
Let's take a look at how some of these features were implemented on different sites.
A large-size clothing brand — Johnny Bigg, for example, offers two options to choose from: it can display the nearest store using IP detection technology or determine what the nearest store is based on the provided city name or postcode. This solution will satisfy every customer's needs!
On the same web page, a user can also filter locations to discover where the in-store pickup is available, as an example.
#4 Chopard Store Locator
Apart from the options offered by Johnny Bigg, Chopard also provides its buyers with the opportunity of filtering store addresses by product category.
#5 Trespass Store Locator
Trespass, a UK outdoor clothing retailer, calculates the distance to every store so you can quickly check which location is the most convenient and easy to reach.
Implementing a 'Find a Store' Functionality Checklist
So far, everything seems to be pretty clear, doesn't it? But if you wonder where to start and what to pay attention to, here are some of our suggestions:
1. Create a list of all cities where you run your businesses.
2. Create a list of the information you want to display. Make sure it is comprehensive enough for your purchasers to decide which shop to visit.
3. Check out that shop information displayed is compliant with the local law.
4. Carry out a study to determine which shop location filters (by address, zip code, IP address, etc.) are most often used by your customers. Sometimes researching existing customers is enough, but be open to other options as well because you never know who will visit your website and what their preferences will be.
5. Use obvious names for links to your shop location pages. You can never go wrong with 'Store locator' or 'Our stores'.
6. Provide clickable phone numbers, Skype IDs, etc.
7. Create map markers, which are clickable and easy to understand.
8. Include only those countries where your shops are already located. Please do not force your buyers to make their way through all countries in the world in order to find the right address.
9. Double-check your store page is optimized for mobile devices. Pick fully responsive plugins and test your website across different platforms.
Store Locator Solutions & Extensions for Magento 2
An extension, which offers search by Zip code, is easy to install and manage, SEO-friendly, and smoothly integrated with Google Maps. Moreover, it provides many setting options and ways of managing locations.
Price: free
An extension offering search based on address and radius is integrated with Google Maps and provides necessary physical stores information. The integration test feature allows you to check how this extension works in your online store after implementation.
Store Locator for Magento 2 Extension
Price: $249
An unlimited number of store locations, filtering by distance, and automatic display of information about the closest stores are some of the features offered by this extension.
Price: $199–$499
Conclusion
If you market your items both online and offline, a store location feature is not preferable, but an essential thing. Customers expect all-encompassing solutions, which they can use on the go — check the directions and availability of products on their smartphones and tablets as they are heading to one of your shops. Therefore, we strongly advise all brick-and-mortar retailers to consider implementing a store locator functionality in their online stores — the potential benefits are difficult to ignore, and available solutions are easier to install and use than you probably think.
Suppose you're willing to implement such a solution into your Magento store. In that case, you could reach out to us, as we have a range of successful instances of introducing a store locator into ecommerce websites. One of such examples is zDegree, a Magento store selling car tires online — you could explore more details on this project in our case study.
Subscribe
to our newsletter